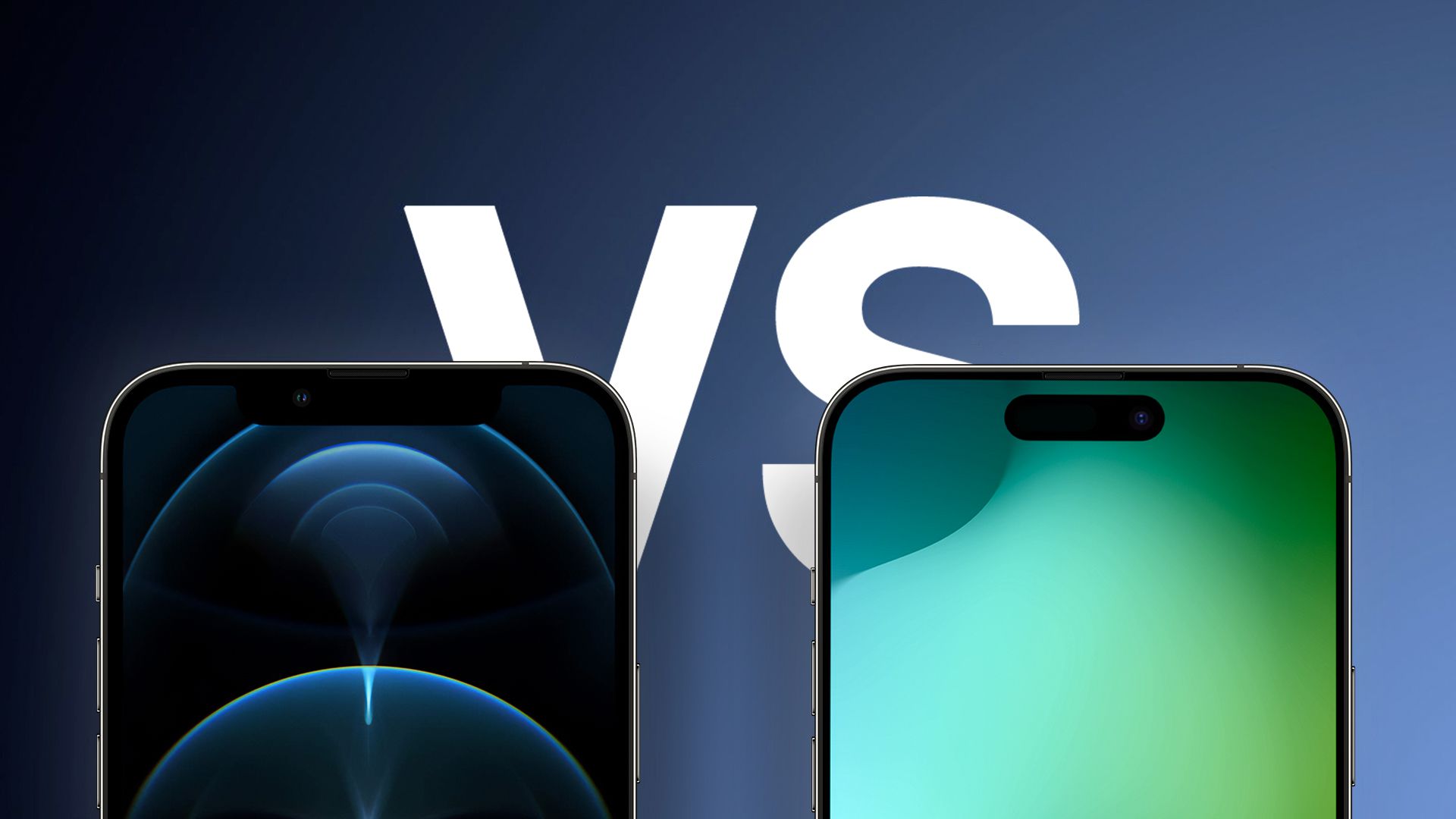 While iPhone upgrades from year to year aren't always groundbreaking, new features can start piling up over multiple generations. For example, the iPhone 15 Pro will be a notable upgrade for those who still have a three-year-old iPhone 12 Pro.

If you're still using an iPhone 12 Pro and planning to upgrade to the iPhone 15 Pro when it launches later this year, we've put together a list of features to look forward to below. The list includes major changes introduced with iPhone 13 Pro and iPhone 14 Pro, as well as new features announced for iPhone 15 Pro.
A17 chip versus A14 chip: The 5nm-based A16 chip in the iPhone 14 Pro is already up to 36% faster than the A14 chip in the iPhone 12 Pro, according to the Geekbench 6 benchmark. The iPhone 15 Pro will feature the A17 chip , which is expected to be manufactured based on TSMC's latest 3nm process for even faster performance and improved power efficiency compared to the previous generation.
USB-C port: With the iPhone 15 Pro, Apple should finally switch from Lightning to a USB-C port. This change will provide a more universal charging standard and enable faster wired data transfer speeds.
Titanium frame: Like the Apple Watch Ultra, the iPhone 15 Pro is said to have a titanium frame instead of stainless steel. The rear glass and display bezels should also have slightly curved edges.
eSIM only in the United States: Apple has removed the physical SIM card tray from all iPhone 14 models sold in the US, meaning the devices only work with eSIMs. The devices are still compatible with physical SIM cards from other countries.
Increased RAM: The iPhone 15 Pro models are rumored to come with an additional 8GB of RAM, compared to 6GB for the iPhone 12 Pro. The increased RAM can benefit multitasking on the iPhone by allowing more apps to be open simultaneously in the background without reloading.
Solid State Buttons: The iPhone 15 Pro models are rumored to feature solid-state volume, power, and mute buttons. Two additional Taptic Engines would provide haptic feedback to simulate the feeling of pressing buttons, similar to the Home button on the iPhone 7 or the trackpad on newer MacBooks.
Satellite Emergency SOS: iPhone 14 models can connect to Globalstar satellites, allowing users to text emergency services when outside of cellular and Wi-Fi coverage. The service is free for two years after activation and is currently available in the US, Canada, France, Germany, Ireland and the UK, with more countries to follow later this month.
Crash detection: New for the iPhone 14 series, Crash Detection is designed to detect serious car accidents and contact emergency services via Emergency SOS if the user is unresponsive. The feature is enabled by default.
Dynamic Island: With the iPhone 14 Pro, Apple replaced the notch with Dynamic Island, a pill-shaped area surrounding the Face ID sensors and front camera. Dynamic Island displays system alerts and integrates with iOS 16's Live Activities feature to show live NBA scores, Uber ride status, and more.
Always On display option: With the iPhone 14 Pro, Apple introduced an always-on display option that dims the entire lock screen, but still shows the time and date, widgets, wallpaper, and notifications. Once you lift the iPhone, tap the screen, or press the side button, the display returns to normal brightness.
Brighter display: The iPhone 14 Pro display is up to 200 nits brighter indoors than the iPhone 12 Pro and offers up to 2,000 nits of brightness outdoors. The increase in brightness should carry over to the iPhone 15 Pro.
Promotion: Introduced on the iPhone 13 Pro, ProMotion enables variable refresh rate up to 120Hz for smoother content and scrolling.
Thinner frames: Similar to the Apple Watch Series 7 and Series 8, the iPhone 15 Pro is said to have even thinner bezels around the display.
Longer Battery Life: Already, the iPhone 14 Pro lasts up to 23 hours in offline video playback, compared to 17 hours for the iPhone 12 Pro. With components like the A17 chip and LiDAR scanner expected to be more power efficient this year, the iPhone 15 Pro could have even longer battery life.
Many camera improvements: iPhone 12 Pro users upgrading to iPhone 15 Pro will have access to a wide range of camera upgrades, including a 48-megapixel wide-angle lens, improved front camera with autofocus, optical zoom enhanced image stabilization by sensor shift, Macro mode, Cinematic mode, Action mode, ProRes video recording, photographic styles, etc.
WiFi 6E: The iPhone 15 Pro models are rumored to support Wi-Fi 6E, which supports the 6GHz band for faster wireless speeds, lower latency, and less signal interference compared to WiFi 6 standard.
5G improvements: iPhone 15 Pro models are expected to feature Qualcomm's Snapdragon X70 modem for improved 5G performance.
1 TB option: Starting with the iPhone 13 Pro, Apple introduced a 1TB storage option.
Apple will likely unveil the iPhone 15 series in September as usual, and the devices might have additional features that haven't been rumored yet.
popular stories
iPhone 15 Pro launched this year with these 11 new features
With the iPhone 15 lineup around six months away, there have already been plenty of rumors about the devices. Many new features and changes are expected for the iPhone 15 Pro models in particular, including a titanium frame and more. Below, we've rounded up 11 supposed features for the iPhone 15 Pro models that shouldn't be available on the standard iPhone 15 and iPhone 15 Plus: A17…
iPhone 15 Pro set to see first price increase since iPhone X
Apple's next-generation iPhone 15 Pro and iPhone 15 Pro Max will likely be more expensive than previous Pro models, according to Jeff Pu, technology analyst at Haitong International Securities, a Hong Kong-based investment firm. In a research note this week, Pu predicted that the iPhone 15 Pro models would see a price increase due to several rumored hardware upgrades, including a titanium frame,…
Reddit went down due to a "major outage"
Reddit is currently down for most users due to a "major outage" affecting the desktop and mobile versions of the website. Reddit's status page says the website is actively investigating the issue as of 12:18 p.m. PT Tuesday. "Reddit is currently offline," reads a notice on Reddit's status page. Reddit is "working to identify the issue," but there's no timeline for a…
Collectors discover the new Apple "Magic Charger" accessory
Asia-based collectors have discovered a never-before-seen MagSafe charging device called the "Magic Charger", which Apple apparently scrapped as it moved into manufacturing. Image via @TheBlueMister Rare Apple product collector and Twitter user "TheBlueMister" first shared images of the unreleased accessory late last year. Since then, several other collectors seem to have obtained their…
Apple shares new AirPods Pro ad highlighting up to 2x active noise cancellation
Apple today shared a new ad for the second-generation AirPods Pro on its YouTube channel. The one-minute video focuses on the second-generation AirPods Pro offering up to twice the active noise cancellation as the original AirPods Pro. Tune to the song "Where Is My Mind?" by Tkay Maidza, the ad shows a woman wearing AirPods Pro as she walks through a busy city. With active noise…
T-Mobile to acquire Mint Mobile brand from Ryan Reynolds
US carrier T-Mobile today announced plans to acquire Mint Mobile, the affordable smartphone brand promoted and backed by actor Ryan Reynolds. Reynolds and T-Mobile CEO Mike Sievert have teamed up for a video updating customers on the upcoming acquisition. The deal involves Ka'ena Corporation, the parent company of Mint Mobile, Ultra Mobile and Plum, with T-Mobile paying…
First real-world look at parts of Apple's mixed-reality headset apparently shown in leaked images
Images of what appear to be components of Apple's upcoming mixed reality headset have been shared online today. The images are from a Twitter user with a protected account who has a track record of sharing accurate information about Apple components. Three of the images show shaped ribbon cables that go around a user's eyes and can be used to connect display components to a board. …
 
Create a Facebook account 2022
Anyone can Create a new Facebook account. if you want Create a Facebook account
or configure it, see this guide. Here you will find step-by-step
instructions on how to set up a Facebook account in different ways, how
to get a Facebook page for your business.
Advantages of creating a Facebook account
It's
no secret that Facebook is one of the biggest social media platforms
today, it is dominating the social media market where you can find all
your friends, relatives and colleagues, follow the content you want and
reach the celebrities who know you. . , in short, Facebook offers the
following features:
Communication with friends and relatives.
Meet new people on social media.
Share photos, videos and moments.
Find local events.
Perfect game collection to spend your free time.
Watch live and important videos.
Buying and selling from within the Facebook app.
Good notification system for all updates.
Create a new Facebook account without a phone number
naturally, How to create a Facebook account
Very simple, almost all users know, simple and not at all
complicated, but one of the requirements to create your personal
Facebook account is that you have a phone number to confirm it. account
when you create it, but to the delight of some users, you can Create Facebook account without a phone number easily through your android phone.
How to Create a New Facebook Account Without a Phone Number
Facebook
It is a social and business website for some users, but when you have a
personal Facebook account and you have some business and you want
customers to connect with you on Facebook, you should not provide your
personal account to protect privacy and not . frequently throughout the
day, so you will have to Create a Facebook account another to
receive your orders. And some people want another Facebook account just
to hang out with friends. Let's learn together How to Create a Facebook Account Without a Phone Number in the next paragraph.
How to Create a New Facebook Account Without a Phone Number
necessary process Create a Facebook account
Not tied to a phone number You have an Android phone and it just needs
to be an Android phone. Then follow these steps to create an account on
your phone without the help of a laptop:

Access the Google Play Store.

Find Facebook Lite Facebook.

Then download and install the app on your phone.

Open the app and choose the language that suits you best.

Click Create New Account.

Then fill in your first and last name.

When you reach the phone number step, you will find the registration via email at the bottom of the screen.

Click to register via email.

Type your e-mail.

Then click next and wait for the activation code to be sent to your email.

Then add the activation code.

Fill in the registration information.
The second way to create a new Facebook account without a phone number
There are many ways To create a Facebook account
No need for a phone number to sign up for an account. One of the ways
is to use a number that is different from your personal number, like
using a fake number from the Internet, and you can find many
applications in the Google Play Store that provide this service, and it
is a service that creates Americans, for example, or numbers that Brits
must activate social media accounts like WhatsApp, Facebook, Instagram
and other social media sites. With these apps you can create an account
on any app and get a fake number with which you can easily create an
account on the Facebook social networking platform and associate the
fake phone number with that account.
imperfections Create a new Facebook account without a phone number
Activating a Facebook account with a fake number has disadvantages and
harms, mainly losing your account in an application that provides a
service to create fake numbers. You are from Facebook on your phone
number, in this case you cannot receive the code because you do not have
a dummy account. Or because Facebook has received many complaints
about your personal Facebook account and wants to verify the credibility
of the account holder by sending a code on your phone or on the number
you linked to the account, here in this case we are talking about fake
numbers.
Configure your Facebook profile
If you are new to this social networking platform then… Create a Facebook profile It can be stressful for you. So here are some tips to help you get started with Facebook:

Add
a Profile Photo – You should add your photo first so your friends and
acquaintances can easily identify you and send you friend requests.

ADD
SOME FRIENDS – Start looking for your friends and send them friend
requests, but make sure not to overdo it, as this can block your FB
account or get Facebook arrested.

Privacy settings – Create a new Facebook account
one thing and managing it is another; Understand your privacy settings
before posting too much personal information on Facebook. It's
important to know how you share your personal information with others
and with the Facebook app so you don't run into privacy issues.

Important
tip – If you are using a Facebook account on a public network, never
share your password with anyone. Also, do not enter the wrong password
multiple times as this will deactivate your Facebook account.

Are you having trouble logging into your Facebook account?
If you are unable to log in to your Facebook account, you can recover it by following these steps:

Try to recover your Facebook account
If you find that your password is invalid or missing, try resetting it.
If
you're having problems with your email, username or phone number, try
logging into your account with an alternate email or phone number.
If
you signed up for a Facebook account via email, you'll need to contact
your email service provider to access your Facebook account email to
sign in.
Reasons why Facebook account fails
You
will only see a message that your account is disabled when you try to
log in. If you don't see this message, you have another problem logging
in. Your Facebook account can be disabled for many reasons. some
examples:

Posting content that doesn't follow Facebook's terms.

Using a fake name.

Personify someone.

Continue to engage in behavior that isn't allowed on Facebook and that violates our Community Guidelines.

Contact others for promotional, advertising, abusive or harassing purposes.
How to create a new Facebook account
if you want it now Create a new Facebook account Using your phone number instead of your email address, you need to follow these steps:

Go to facebook.com and click Create New Account.

Enter your telephone number and other personal information requested in the "Registration" form; Click "Login" when finished.

Enter
the verification code you received on your mobile number and click
Continue. That's all you need to do to set up a new Facebook account
with your phone number.

distance Create a Facebook account newYou
can manage your account settings and keep it private or open to the
public. For further use, just enter your email address/phone number and
password when creating your account to login your Facebook account.
How to Create a New Facebook Account on Your Computer
Here we will learn how to create a new Facebook gmail account on computer, and here are the necessary steps:
Turn on the computer and launch the browser.
Click Create New Account.
After that, a window will appear where you need to enter:
Your first and middle name.
Your gmail (which we created earlier).
Account password.
After completing these steps, you have to click on Create a Facebook account.
After that, a window will appear asking you to confirm the email as follows:
All
you have to do is go to your email inbox and you will find a message
from Facebook, you have two options, click on the blue confirmation
option or copy the confirmation code and add it to the previous window.
Facebook account verification without number
After entering the code, click Confirm below.
so you did Create a new Facebook account on Gmail.
Create a Facebook account on your phone
When using your phone to create a new Facebook Gmail account, you must first Download the Facebook app from Google Play
If you are using a phone with limited specs, not enough storage space
or don't want to consume your internet package quickly. Facebook Lite
is the right app. Now, let's start explaining:
Open the Facebook app.
Click Create a new account and grant it to Facebook Permissions to complete account creation.
In the next window, click on the Next option to start creating a new email account on your phone.
Enter your name and tap Next, select your date of birth by month, day and year and tap Next again to go to the next step.
Select your gender and click Next.
In
the next step you will be asked to enter a phone number but we are
creating a new facebook gmail account without phone number or email so
you should choose email login option. Then enter your email and click
next.
After
that, you must enter your password, then a window will appear to
confirm the registration process, just click on the "Register" option.
In the Save Login Information window, you can save the information in an application Facebook So that you can access your account easily next time.
After that you will be ready Create a new Facebook account.