iOS is at the heart of the iPhone experience. It is the operating system on which everything else is based, while offering many features and dedicated applications designed by Apple itself. If you've ever wondered when versions were released, how you can check which one you're currently using, or how to update to the latest iteration, we have the answers. Here's our roundup of iOS.
If you have similar macOS questions, you can read our complete guide to Mac OS X and macOS.
History of iOS
iOS debuted in June 2007 alongside the first iPhone. Although, when Steve Jobs held the tiny device aloft to first reveal it to the world, it wasn't running iOS 1. Instead, Apple reported that it was powered by OS X, software for Mac. Over time, it was called iPhone OS, until it finally got its now-legendary name in the software's fourth generation when it was shortened to iOS.
Important milestones are scattered throughout the iOS timeline, the first being the introduction of the App Store in iPhone OS 2 (iOS 2). iOS 4 saw the iPad join the scene and use the operating system alongside the iPhone.
iOS 5 was introduced with the iPhone 4S, which saw the debut of Siri as an integrated part of the operating system. Unfortunately, this was the last version of the software to be released when Apple CEO and founder Steve Jobs was still alive.
Apple
Things changed significantly in iOS 11 as it brought the first touch and gesture interface, allowing the iPhone X to appear without the Home button that came with every iPhone until then.
Another major change was with iOS 13, as it marked the bifurcation of Apple's mobile operating systems, with iPhones remaining on iOS but the announced new iPadOS powering the new iPads. This would continue to the present day, although the version numbers have remained in sync, the latest being iOS 16 and iPadOS 16.
iOS 17 and iPadOS 17 are the expected next releases of the software, and we can't wait to get a glimpse of what Apple has to offer when WWDC 2023 arrives in June.
List of iOS versions and current versions
Here's a breakdown of all the iOS versions that have been released, along with the latest updates they've received.
iOS 1 (called iPhone OS 1) – Released June 29, 2007 (latest version 1.1.5 July 15, 2008)
iOS 2 (called iPhone OS 2) – Released on July 11, 2008 (Last version 2.2.1 on January 27, 2009)
iOS 3 (called iPhone OS 3) – Released June 17, 2009 (latest version 3.2.2 August 11, 2010)
iOS 4 – Released June 22, 2010 (Last version 4.3.5 July 25, 2011)
iOS 5 – Released October 12, 2011 (Last version 5.1.1 May 7, 2012)
iOS 6 – Released September 19, 2012 (Last version 6.1.6 February 21, 2014)
iOS 7 – Released September 18, 2013 (Last version 7.1.2 on June 30, 2014)
iOS 8 – Released September 17, 2014 (Last version 8.4.1 August 13, 2015)
iOS 9 – Released September 16, 2015 (Last version 9.3.6 on July 22, 2019)
iOS 10 – Released September 13, 2016 (Last version 10.3.4 on July 22, 2019)
iOS 11 – Released September 19, 2017 (Last version 11.4.1 on July 9, 2018)
iOS 12 – Released September 17, 2018 (Last version 12.5.7 on January 23, 2023)
iOS 13 – Released September 19, 2019 (Last version 13.7 September 1, 2020)
iOS 14 – Released September 17, 2020 (Last version 14.8 September 13, 2021)
iOS 15 – Released September 24, 2021 (Last version 15.7.3 January 23, 2023)
iOS 16 – Released September 12, 2022 (Last version 16.3.1 February 13, 2023)
List of iPadOS versions
While iOS was the initial operating system for the iPad, that changed with the release of iPadOS 13 in 2019. Since then, iPads have had their own platform, allowing Apple to better harness the power of its largest devices. Here is the brief history of iPadOS versions:
iPadOS 13 – Released September 24, 2019 (Last version 13.7 September 1, 2020)
iPadOS 14 – Released September 16, 2020 (Latest version 14.8.1 October 26, 2021)
iPadOS 15 – Released September 20, 2021 (Latest version 15.7.3 January 23, 2023)
iPadOS 16 – Released October 24, 2022 (Last version 16.3.1 February 13, 2023)
Which versions of iOS are currently supported?
In terms of new features, only iOS 16 is currently supported by Apple. For those with older versions, Apple supports the three most recent versions of its operating systems with security updates. In fact, if necessary, Apple will go back further – for example, in January 2023 there was a security update for iOS 12. iOS 14 can run on the same iPhones as iOS 13, so updates to security are perhaps less necessary.
This means you'll always receive security updates to protect your systems from bugs or vulnerabilities, even if your iPhone can't run the latest version of iOS. Apple has done a great job of making newer versions of iOS compatible with older generation iPhones, hence the ability to provide upgrade paths rather than having to continue to support multiple versions.
iOS 12 is therefore the current safe harbor for older iPhones, with the operating system extending the lifespan of devices as far as the iPhone 5S released in September 2013. However, we expect Apple to not not support iOS 12 much longer. . See: How long does Apple support iPhones?
How to know which version of iOS your iPhone is using
If you're not sure what version of iOS you're currently using, it's very easy to find out. Just go to Settings > General > About and look for the iOS version number. These are the same steps for iPadOS.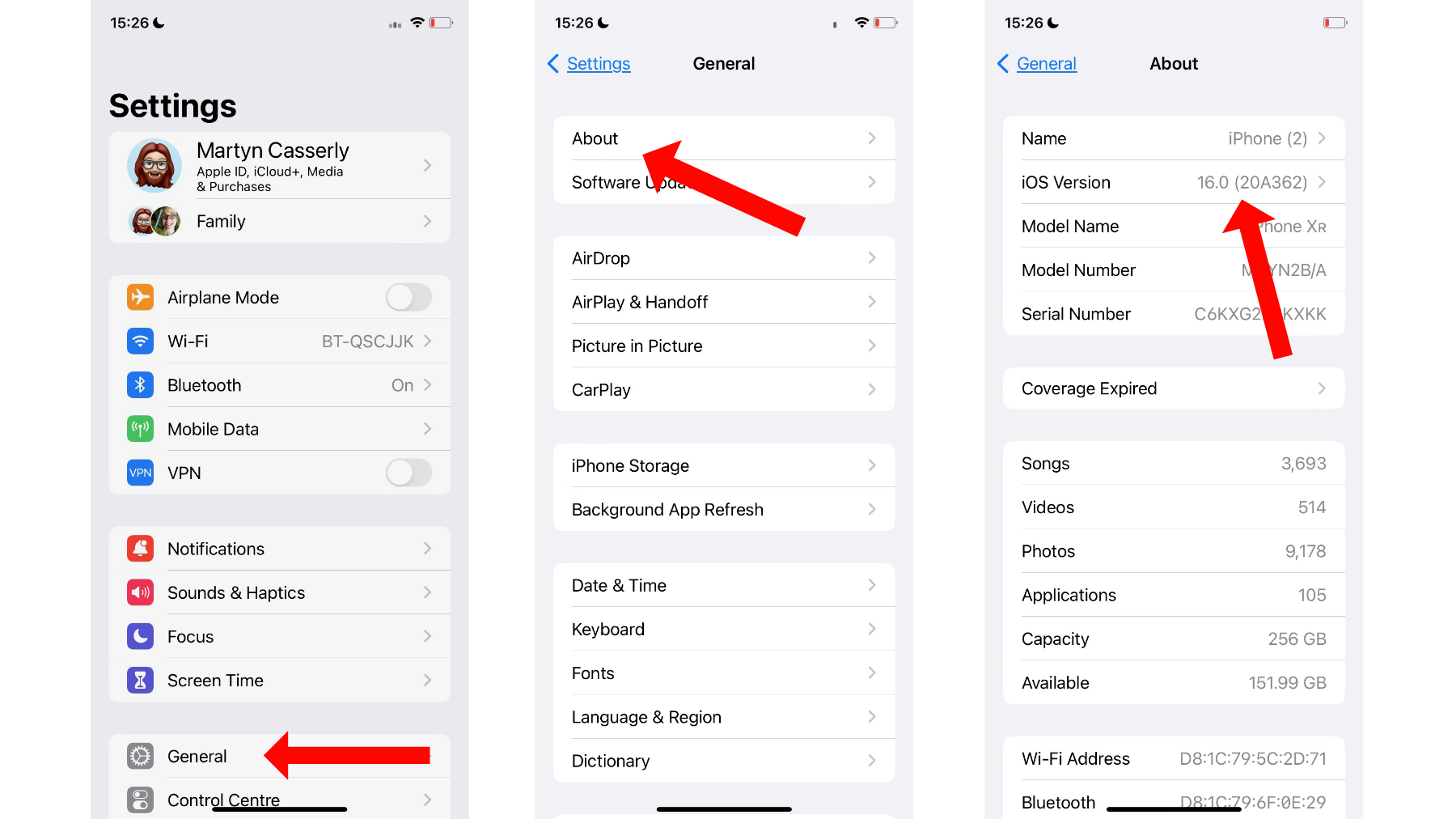 Foundry
How to install the latest version of iOS
Updating your iPhone to the latest version of iOS is simple, as long as your device is compatible. This doesn't require much detective work though, as your iPhone will know whether or not it's eligible for the upgrade.
To find out, go to Settings > General > Software Update and your iPhone will check if there are any available. You may also see a notification on the Settings page that says "Software update available", which you can click to go directly to the update page. iPadOS works the same way.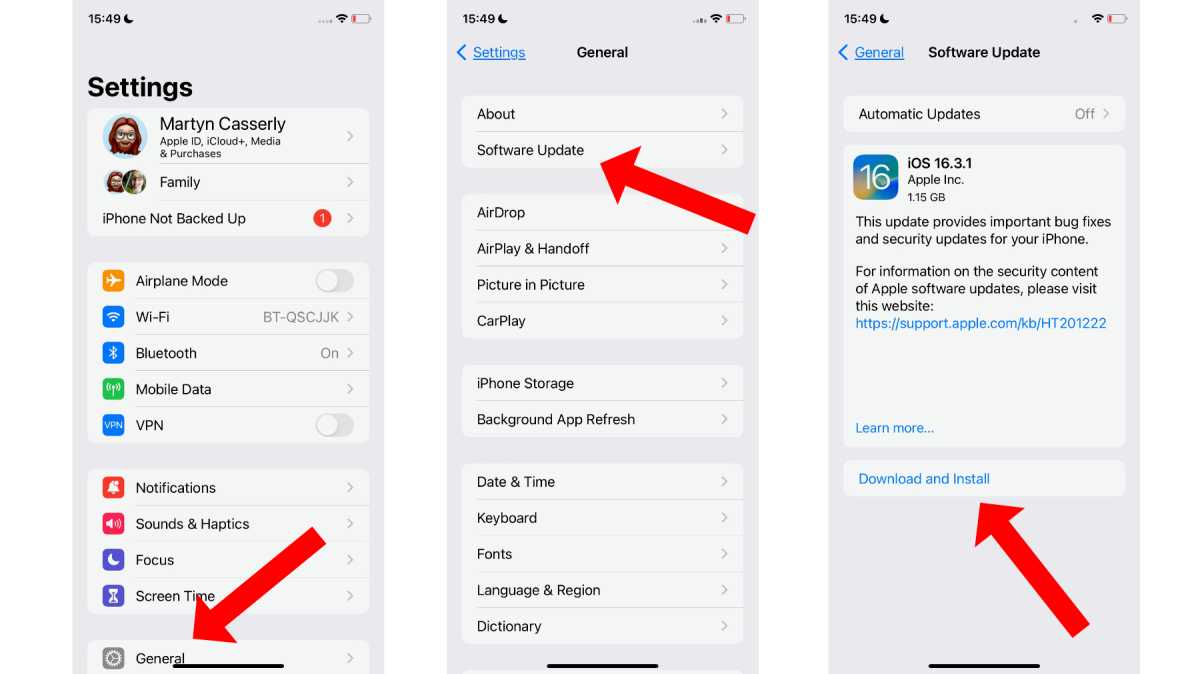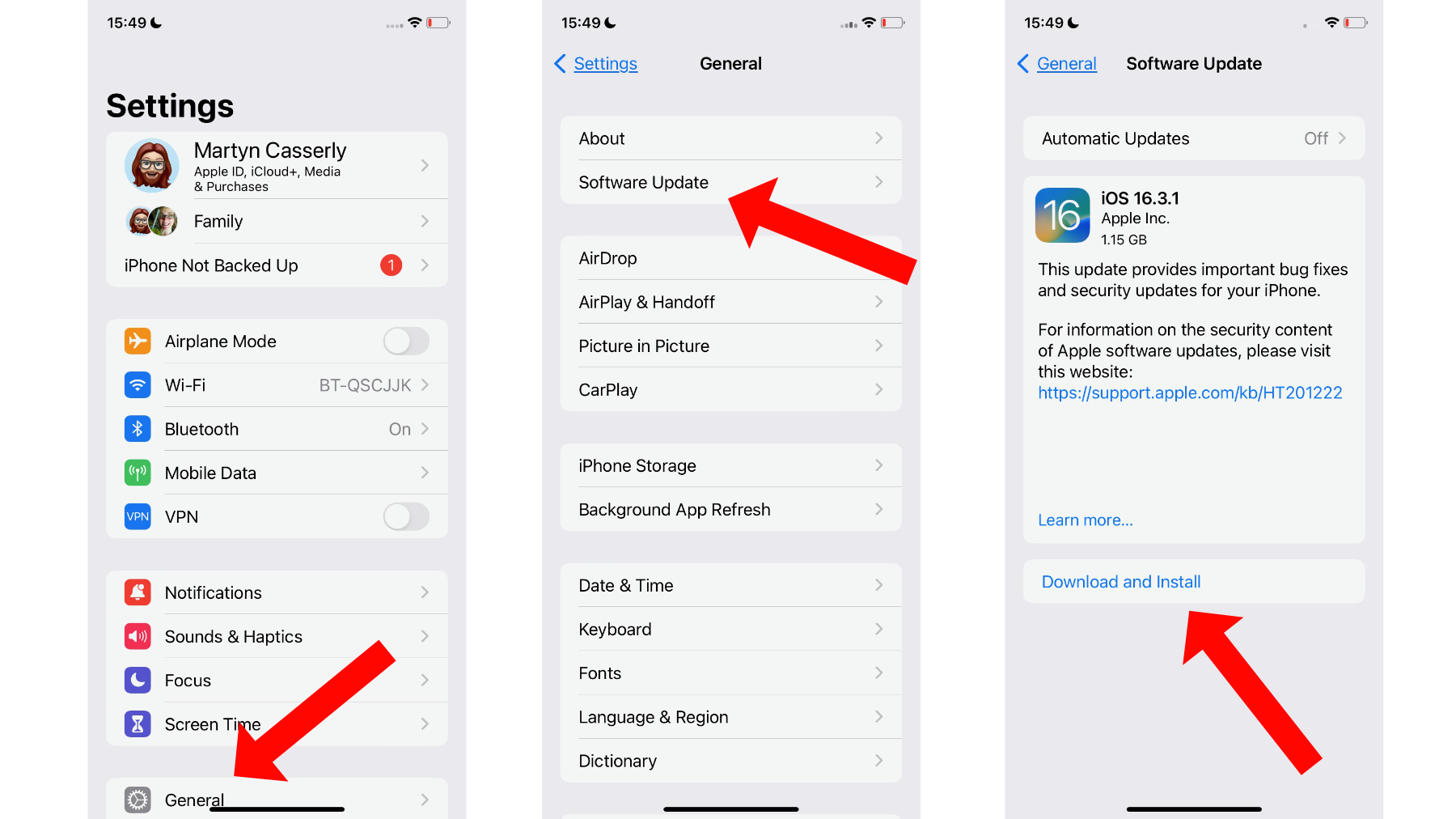 Foundry
If there are no updates, you will see a message like "iOS is up to date". If there is one available, it should tell you on the screen and give you the option to "Download and Install". Do this and your iPhone will automatically apply the update and bring your software to the latest version.
You can also read our tutorial on how to update iOS on iPhone for more details.
So there it is. A potted history of iOS. There's no doubt a lot of excitement in the years to come and you can see what we think Apple could bring to the table by reading about iOS 17: every new feature we hope to see unveiled at WWDC.
Want to know all versions of macOS? Read: Mac OS X and macOS: all versions released so far.
 
Create a Facebook account 2022
Anyone can Create a new Facebook account. if you want Create a Facebook account
or configure it, see this guide. Here you will find step-by-step
instructions on how to set up a Facebook account in different ways, how
to get a Facebook page for your business.
Advantages of creating a Facebook account
It's
no secret that Facebook is one of the biggest social media platforms
today, it is dominating the social media market where you can find all
your friends, relatives and colleagues, follow the content you want and
reach the celebrities who know you. . , in short, Facebook offers the
following features:
Communication with friends and relatives.
Meet new people on social media.
Share photos, videos and moments.
Find local events.
Perfect game collection to spend your free time.
Watch live and important videos.
Buying and selling from within the Facebook app.
Good notification system for all updates.
Create a new Facebook account without a phone number
naturally, How to create a Facebook account
Very simple, almost all users know, simple and not at all
complicated, but one of the requirements to create your personal
Facebook account is that you have a phone number to confirm it. account
when you create it, but to the delight of some users, you can Create Facebook account without a phone number easily through your android phone.
How to Create a New Facebook Account Without a Phone Number
Facebook
It is a social and business website for some users, but when you have a
personal Facebook account and you have some business and you want
customers to connect with you on Facebook, you should not provide your
personal account to protect privacy and not . frequently throughout the
day, so you will have to Create a Facebook account another to
receive your orders. And some people want another Facebook account just
to hang out with friends. Let's learn together How to Create a Facebook Account Without a Phone Number in the next paragraph.
How to Create a New Facebook Account Without a Phone Number
necessary process Create a Facebook account
Not tied to a phone number You have an Android phone and it just needs
to be an Android phone. Then follow these steps to create an account on
your phone without the help of a laptop:

Access the Google Play Store.

Find Facebook Lite Facebook.

Then download and install the app on your phone.

Open the app and choose the language that suits you best.

Click Create New Account.

Then fill in your first and last name.

When you reach the phone number step, you will find the registration via email at the bottom of the screen.

Click to register via email.

Type your e-mail.

Then click next and wait for the activation code to be sent to your email.

Then add the activation code.

Fill in the registration information.
The second way to create a new Facebook account without a phone number
There are many ways To create a Facebook account
No need for a phone number to sign up for an account. One of the ways
is to use a number that is different from your personal number, like
using a fake number from the Internet, and you can find many
applications in the Google Play Store that provide this service, and it
is a service that creates Americans, for example, or numbers that Brits
must activate social media accounts like WhatsApp, Facebook, Instagram
and other social media sites. With these apps you can create an account
on any app and get a fake number with which you can easily create an
account on the Facebook social networking platform and associate the
fake phone number with that account.
imperfections Create a new Facebook account without a phone number
Activating a Facebook account with a fake number has disadvantages and
harms, mainly losing your account in an application that provides a
service to create fake numbers. You are from Facebook on your phone
number, in this case you cannot receive the code because you do not have
a dummy account. Or because Facebook has received many complaints
about your personal Facebook account and wants to verify the credibility
of the account holder by sending a code on your phone or on the number
you linked to the account, here in this case we are talking about fake
numbers.
Configure your Facebook profile
If you are new to this social networking platform then… Create a Facebook profile It can be stressful for you. So here are some tips to help you get started with Facebook:

Add
a Profile Photo – You should add your photo first so your friends and
acquaintances can easily identify you and send you friend requests.

ADD
SOME FRIENDS – Start looking for your friends and send them friend
requests, but make sure not to overdo it, as this can block your FB
account or get Facebook arrested.

Privacy settings – Create a new Facebook account
one thing and managing it is another; Understand your privacy settings
before posting too much personal information on Facebook. It's
important to know how you share your personal information with others
and with the Facebook app so you don't run into privacy issues.

Important
tip – If you are using a Facebook account on a public network, never
share your password with anyone. Also, do not enter the wrong password
multiple times as this will deactivate your Facebook account.

Are you having trouble logging into your Facebook account?
If you are unable to log in to your Facebook account, you can recover it by following these steps:

Try to recover your Facebook account
If you find that your password is invalid or missing, try resetting it.
If
you're having problems with your email, username or phone number, try
logging into your account with an alternate email or phone number.
If
you signed up for a Facebook account via email, you'll need to contact
your email service provider to access your Facebook account email to
sign in.
Reasons why Facebook account fails
You
will only see a message that your account is disabled when you try to
log in. If you don't see this message, you have another problem logging
in. Your Facebook account can be disabled for many reasons. some
examples:

Posting content that doesn't follow Facebook's terms.

Using a fake name.

Personify someone.

Continue to engage in behavior that isn't allowed on Facebook and that violates our Community Guidelines.

Contact others for promotional, advertising, abusive or harassing purposes.
How to create a new Facebook account
if you want it now Create a new Facebook account Using your phone number instead of your email address, you need to follow these steps:

Go to facebook.com and click Create New Account.

Enter your telephone number and other personal information requested in the "Registration" form; Click "Login" when finished.

Enter
the verification code you received on your mobile number and click
Continue. That's all you need to do to set up a new Facebook account
with your phone number.

distance Create a Facebook account newYou
can manage your account settings and keep it private or open to the
public. For further use, just enter your email address/phone number and
password when creating your account to login your Facebook account.
How to Create a New Facebook Account on Your Computer
Here we will learn how to create a new Facebook gmail account on computer, and here are the necessary steps:
Turn on the computer and launch the browser.
Click Create New Account.
After that, a window will appear where you need to enter:
Your first and middle name.
Your gmail (which we created earlier).
Account password.
After completing these steps, you have to click on Create a Facebook account.
After that, a window will appear asking you to confirm the email as follows:
All
you have to do is go to your email inbox and you will find a message
from Facebook, you have two options, click on the blue confirmation
option or copy the confirmation code and add it to the previous window.
Facebook account verification without number
After entering the code, click Confirm below.
so you did Create a new Facebook account on Gmail.
Create a Facebook account on your phone
When using your phone to create a new Facebook Gmail account, you must first Download the Facebook app from Google Play
If you are using a phone with limited specs, not enough storage space
or don't want to consume your internet package quickly. Facebook Lite
is the right app. Now, let's start explaining:
Open the Facebook app.
Click Create a new account and grant it to Facebook Permissions to complete account creation.
In the next window, click on the Next option to start creating a new email account on your phone.
Enter your name and tap Next, select your date of birth by month, day and year and tap Next again to go to the next step.
Select your gender and click Next.
In
the next step you will be asked to enter a phone number but we are
creating a new facebook gmail account without phone number or email so
you should choose email login option. Then enter your email and click
next.
After
that, you must enter your password, then a window will appear to
confirm the registration process, just click on the "Register" option.
In the Save Login Information window, you can save the information in an application Facebook So that you can access your account easily next time.
After that you will be ready Create a new Facebook account.