Not everyone can afford Apple's latest iPhones, especially with prices approaching or exceeding $1,000. The truth is that most people don't need the latest models, and Apple offers attractive prices on the older ones. For example, Apple is still selling the iPhone 12 and iPhone 13 mini, and both of these phones have a starting price of $599, which is much friendlier to your wallet.
Let's take a look at the main components of the iPhone 12 and iPhone 13 and how they compare to help you decide which model to buy.
iPhone 12 vs. iPhone 13 mini: specs
iPhone 12
iPhone 13 mini
Display
6.1-inch Super Retina XDR OLED
Resolution 2532 × 1170 pixels at 460 ppi
5.4-inch Super Retina XDR OLED
2340×1080 pixel resolution at 476 ppi
Dimensions
5.78 inches x 2.82 inches x 0.29 inches
5.18″ x 2.53″ x 0.30″
lester
5.78 ounces
4.97 ounces
Colors
Black, Blue, Green, Product(RED), Purple, White
Blue, Green, Midnight, Pink, Product(RED), Starlight
Processor
A14 bionic
A15 bionic
Storage
64GB/128GB/256GB
128GB/256GB/512GB
Rear camera
Dual 12MP
Wide: ƒ/1.6 aperture
Ultra wide: ƒ/2.4 aperture
Optical image stabilization
Smart HDR 3 for photos
Dual 12MP
Wide: ƒ/1.6 aperture
Ultra wide: ƒ/2.4 aperture
Sensor-shift optical image stabilization
Smart HDR 4 for photos
Front camera
12MP true depth
f/2.2 aperture
Smart HDR 3 for photos
12MP true depth
f/2.2 aperture
Cinematic mode for videos
Smart HDR 4 for photos
Video recording
4K video recording at 24 fps, 30 fps or 60 fps
HDR Dolby Vision up to 30 fps
4K video recording at 24 fps, 30 fps or 60 fps
HDR Dolby Vision up to 60 fps
Cinematic mode
Biometric Security
Face ID
Face ID
Connectivity
WiFi 6
5G LTE
Bluetooth 5.0
Lightning
WiFi 6
5G LTE
Bluetooth 5.0
Lightning
Wireless charging
MagSafe, Qi
MagSafe, Qi
Waterproofing
IP68
IP68
SIM
Dual SIM (nano and eSim)
Dual SIM (nano and eSim)
Dual eSIM
Battery life
17 hours of video playback
13 hours of video playback
Price
$599/$649/$749
$599/$699/$899
iPhone 12 vs. iPhone 13: Design and colors
The iPhone 12 and iPhone 13 mini feature the same flat-edge design, but the mini is smaller and lighter. The two rear camera bump lenses are vertical on the iPhone 12. On the iPhone 13 mini, they are diagonal.
The color offerings are different. Even three colors with the same name on both models (blue, green and product (RED)) are different shades.
Apple
Our choice : The design differences are not very important to influence you one way or another. Lens placement isn't an issue, the extra weight on the iPhone 12 isn't enough to sway a decision. It really comes down to the size and color you prefer – every phone's color palettes are different. But if you put a case on the iPhone, you may not care about the color of the phone.
iPhone 12 vs. iPhone 13 mini: Display
The iPhone 12 and iPhone 13 mini both have a Super Retina XDR display, 2,000,000:1 contrast ratio, True Tone, and P3 color support. One difference is that the iPhone 13 mini is 28% brighter, with a typical peak brightness of 800 nits, while the iPhone 12 is rated at 625 nits. Both phones have an HDR peak brightness of 1,200 nits.
Our opinion : If you are often in a situation where you have trouble seeing the screen in an environment with bright lights, consider the iPhone 13. Even though it is smaller than the iPhone 12, its brighter screen will easier to see in these situations, but the iPhone 12's screen is still more than enough for everyday use.
iPhone 12 vs. iPhone 13 mini: Cameras
This is where the iPhone 13 has a few differences that might sway your decision. Users who take their photos and videos very seriously might be won over by the new camera features.
The reason the rear camera lenses on the iPhone 13 mini are now diagonal is so that Apple can install a sensor-shifting optical image stabilization system there. It improves on the standard optical image stabilization of the iPhone 12. The main rear camera specs of both phones are the same – 12MP Wide (ƒ/1.6 aperture) and Ultra Wide (ƒ/2.4 aperture) – but the main camera has a larger sensor for better low-light performance. The front cameras have the same specs (12MP, ƒ/2.2 aperture), but the iPhone 13 mini's selfie camera supports newer features than the 12.
The iPhone 13 mini now features what Apple calls Photographic Styles, which can alter color tones without affecting skin tones. You can apply a style called Rich Contrast, and the shadows in a photo will darken and the colors will become deeper. The Vibrant style makes photos brighter, while the Warm style enhances golden tones and the Cool style accentuates blue colors.
A key new video feature is Cinematic mode, which creates shallow depth of field: the person stays in focus while the background is blurred. You can shift the focus from person to person, and you can even edit the effect on the iPhone to adjust the blur or change the focus. Cinematic mode runs in 1080p at 30 fps.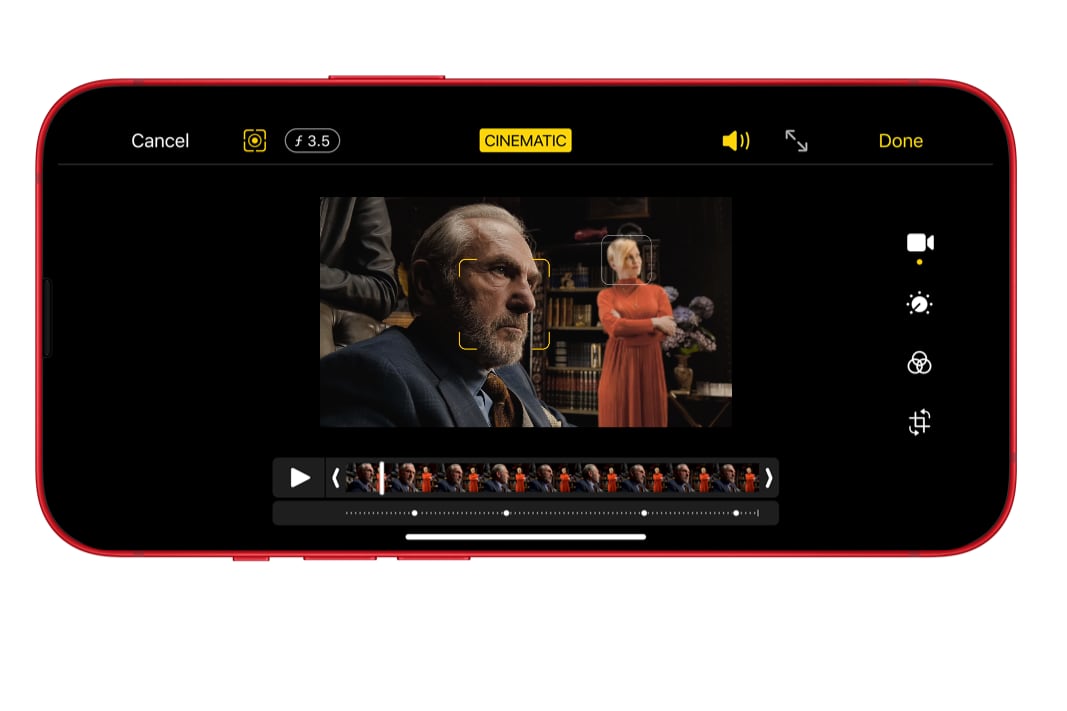 Apple
Our choice : For users who make cameras the top priority, the iPhone 13 mini is the way to go. The cameras are better and the new features are ideal for content creators who want to do more with their photos and videos. However, if your use case is more about snapshots and short video clips, you'll find an excellent camera in the iPhone 12.
iPhone 12 vs iPhone 13 mini: Battery life
As iPhone 13 mini is smaller than iPhone 12, its battery is smaller. According to information provided by Apple to Chemtrec, the iPhone 13 mini's battery is listed with a capacity of 9.34 watt-hours, compared to 10.78 Wh for the iPhone 12, an increase of 15%. However, Apple's specs state that the iPhone 12 and iPhone 13 mini offer 17 hours of video playback. But the iPhone 13 mini has a 13-hour streaming video rating, which is 2 hours longer than the iPhone 12. The iPhone 12 offers 65 hours of audio playback (10 hours longer). In our tests, the iPhone 12 lasted about eight and a half hours, about two hours longer than the iPhone 13 mini.
Both iPhones are compatible with MagSafe and Qi wireless charging. If you use a 20W charger or more, both phones can add up to 50% charge in 30 minutes.
Our choice : Either phone is quite capable of getting you through a day and more. If you frequently use the phone as a work tool or for your personal projects, the larger battery of the iPhone 12 is more reassuring.
iPhone 12 vs. iPhone 13 mini: Processor
Apple did an interesting thing when talking about the iPhone 13 mini's processor: it compared the performance of the new A15 Bionic to "the competition" instead of the iPhone 12's A14 Bionic. That's probably because 'it may make bigger claims against the competition, while comparisons to the A14 Bionic may not be as significant according to Apple. We did our own testing of the A15 chip in the iPhone 13 and it shows a modest 11% increase over the A14 Bionic in the iPhone 12.
The A15 Bionic, like the A14 Bionic it replaces, has 6 CPU cores (2 performance cores and 4 efficiency cores), a 4-core GPU and a 16-core neural engine. That's one less GPU core than in the iPhone 13 Pro, but it shouldn't make much of a difference in anything other than high-end games and apps.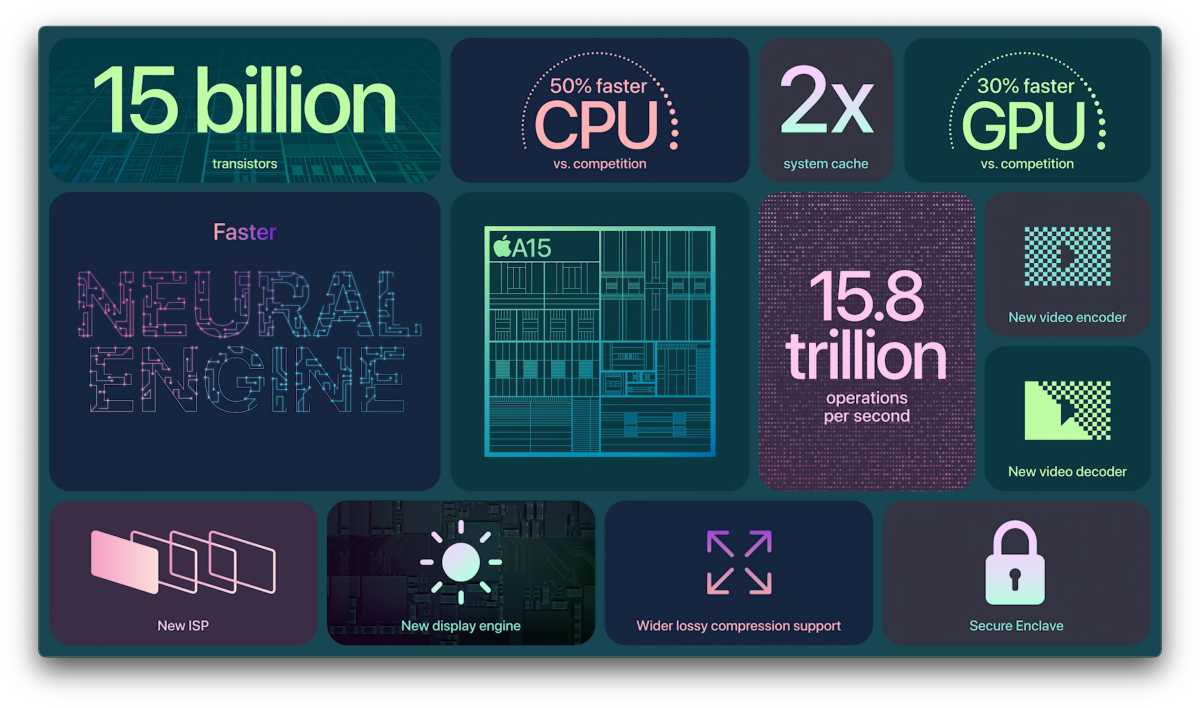 Apple
Our choice : While the geeks among us are wary of CPU performance, the truth is that for several generations now the iPhone has been more than fast enough to handle everyday use – accessing social media, using the camera , web browsing, instant messaging, video calls. , and more. The iPhone 12 is very fast for these tasks as well as heavier tasks, like processing edited videos and games.
iPhone 12 vs. iPhone 13 mini: Storage
This is where the price differences stand out. Both phones start at $599, but at that price the iPhone 12 has 64GB of storage, while the iPhone 13 mini has 128GB. A 128GB iPhone 12 is $649, $50 more than the 128GB iPhone 13 mini. Both models are available with 256GB, but the iPhone 12 costs $749, which is $50 more than the $699 256GB iPhone 13 mini. The iPhone 12 n isn't available with 512GB, while the iPhone 13 mini has a 512GB version for $899.
Our choice : If you only consider storage, the prices of the iPhone 12 and iPhone 13 mini seem odd. We wouldn't recommend buying a 64GB phone – that's not enough storage for most people, especially if you plan to take lots of photos and videos. The 128GB and 256GB iPhone mini are better deals than the 128GB and 256GB iPhone 12.
But the physical size of the phone plays a role here. If you prefer the larger size of the iPhone 12, be prepared to pay a little more.
iPhone 12 vs. iPhone 13 mini: conclusion
With the iPhone 13 mini, you get a few extra features over the iPhone 12: more camera options, a faster processor, and a lower price per gigabyte for storage. And it's in a smaller package, which is the main difference between the two. But the iPhone 12 is still a great phone, and if your use case is more basic, it's the best fit. Its A14 Bionic is very fast, so don't worry about it being outdated, and if you're upgrading from a much older iPhone, you still get a significant performance boost.
 
Create a Facebook account 2022
Anyone can Create a new Facebook account. if you want Create a Facebook account
or configure it, see this guide. Here you will find step-by-step
instructions on how to set up a Facebook account in different ways, how
to get a Facebook page for your business.
Advantages of creating a Facebook account
It's
no secret that Facebook is one of the biggest social media platforms
today, it is dominating the social media market where you can find all
your friends, relatives and colleagues, follow the content you want and
reach the celebrities who know you. . , in short, Facebook offers the
following features:
Communication with friends and relatives.
Meet new people on social media.
Share photos, videos and moments.
Find local events.
Perfect game collection to spend your free time.
Watch live and important videos.
Buying and selling from within the Facebook app.
Good notification system for all updates.
Create a new Facebook account without a phone number
naturally, How to create a Facebook account
Very simple, almost all users know, simple and not at all
complicated, but one of the requirements to create your personal
Facebook account is that you have a phone number to confirm it. account
when you create it, but to the delight of some users, you can Create Facebook account without a phone number easily through your android phone.
How to Create a New Facebook Account Without a Phone Number
Facebook
It is a social and business website for some users, but when you have a
personal Facebook account and you have some business and you want
customers to connect with you on Facebook, you should not provide your
personal account to protect privacy and not . frequently throughout the
day, so you will have to Create a Facebook account another to
receive your orders. And some people want another Facebook account just
to hang out with friends. Let's learn together How to Create a Facebook Account Without a Phone Number in the next paragraph.
How to Create a New Facebook Account Without a Phone Number
necessary process Create a Facebook account
Not tied to a phone number You have an Android phone and it just needs
to be an Android phone. Then follow these steps to create an account on
your phone without the help of a laptop:

Access the Google Play Store.

Find Facebook Lite Facebook.

Then download and install the app on your phone.

Open the app and choose the language that suits you best.

Click Create New Account.

Then fill in your first and last name.

When you reach the phone number step, you will find the registration via email at the bottom of the screen.

Click to register via email.

Type your e-mail.

Then click next and wait for the activation code to be sent to your email.

Then add the activation code.

Fill in the registration information.
The second way to create a new Facebook account without a phone number
There are many ways To create a Facebook account
No need for a phone number to sign up for an account. One of the ways
is to use a number that is different from your personal number, like
using a fake number from the Internet, and you can find many
applications in the Google Play Store that provide this service, and it
is a service that creates Americans, for example, or numbers that Brits
must activate social media accounts like WhatsApp, Facebook, Instagram
and other social media sites. With these apps you can create an account
on any app and get a fake number with which you can easily create an
account on the Facebook social networking platform and associate the
fake phone number with that account.
imperfections Create a new Facebook account without a phone number
Activating a Facebook account with a fake number has disadvantages and
harms, mainly losing your account in an application that provides a
service to create fake numbers. You are from Facebook on your phone
number, in this case you cannot receive the code because you do not have
a dummy account. Or because Facebook has received many complaints
about your personal Facebook account and wants to verify the credibility
of the account holder by sending a code on your phone or on the number
you linked to the account, here in this case we are talking about fake
numbers.
Configure your Facebook profile
If you are new to this social networking platform then… Create a Facebook profile It can be stressful for you. So here are some tips to help you get started with Facebook:

Add
a Profile Photo – You should add your photo first so your friends and
acquaintances can easily identify you and send you friend requests.

ADD
SOME FRIENDS – Start looking for your friends and send them friend
requests, but make sure not to overdo it, as this can block your FB
account or get Facebook arrested.

Privacy settings – Create a new Facebook account
one thing and managing it is another; Understand your privacy settings
before posting too much personal information on Facebook. It's
important to know how you share your personal information with others
and with the Facebook app so you don't run into privacy issues.

Important
tip – If you are using a Facebook account on a public network, never
share your password with anyone. Also, do not enter the wrong password
multiple times as this will deactivate your Facebook account.

Are you having trouble logging into your Facebook account?
If you are unable to log in to your Facebook account, you can recover it by following these steps:

Try to recover your Facebook account
If you find that your password is invalid or missing, try resetting it.
If
you're having problems with your email, username or phone number, try
logging into your account with an alternate email or phone number.
If
you signed up for a Facebook account via email, you'll need to contact
your email service provider to access your Facebook account email to
sign in.
Reasons why Facebook account fails
You
will only see a message that your account is disabled when you try to
log in. If you don't see this message, you have another problem logging
in. Your Facebook account can be disabled for many reasons. some
examples:

Posting content that doesn't follow Facebook's terms.

Using a fake name.

Personify someone.

Continue to engage in behavior that isn't allowed on Facebook and that violates our Community Guidelines.

Contact others for promotional, advertising, abusive or harassing purposes.
How to create a new Facebook account
if you want it now Create a new Facebook account Using your phone number instead of your email address, you need to follow these steps:

Go to facebook.com and click Create New Account.

Enter your telephone number and other personal information requested in the "Registration" form; Click "Login" when finished.

Enter
the verification code you received on your mobile number and click
Continue. That's all you need to do to set up a new Facebook account
with your phone number.

distance Create a Facebook account newYou
can manage your account settings and keep it private or open to the
public. For further use, just enter your email address/phone number and
password when creating your account to login your Facebook account.
How to Create a New Facebook Account on Your Computer
Here we will learn how to create a new Facebook gmail account on computer, and here are the necessary steps:
Turn on the computer and launch the browser.
Click Create New Account.
After that, a window will appear where you need to enter:
Your first and middle name.
Your gmail (which we created earlier).
Account password.
After completing these steps, you have to click on Create a Facebook account.
After that, a window will appear asking you to confirm the email as follows:
All
you have to do is go to your email inbox and you will find a message
from Facebook, you have two options, click on the blue confirmation
option or copy the confirmation code and add it to the previous window.
Facebook account verification without number
After entering the code, click Confirm below.
so you did Create a new Facebook account on Gmail.
Create a Facebook account on your phone
When using your phone to create a new Facebook Gmail account, you must first Download the Facebook app from Google Play
If you are using a phone with limited specs, not enough storage space
or don't want to consume your internet package quickly. Facebook Lite
is the right app. Now, let's start explaining:
Open the Facebook app.
Click Create a new account and grant it to Facebook Permissions to complete account creation.
In the next window, click on the Next option to start creating a new email account on your phone.
Enter your name and tap Next, select your date of birth by month, day and year and tap Next again to go to the next step.
Select your gender and click Next.
In
the next step you will be asked to enter a phone number but we are
creating a new facebook gmail account without phone number or email so
you should choose email login option. Then enter your email and click
next.
After
that, you must enter your password, then a window will appear to
confirm the registration process, just click on the "Register" option.
In the Save Login Information window, you can save the information in an application Facebook So that you can access your account easily next time.
After that you will be ready Create a new Facebook account.