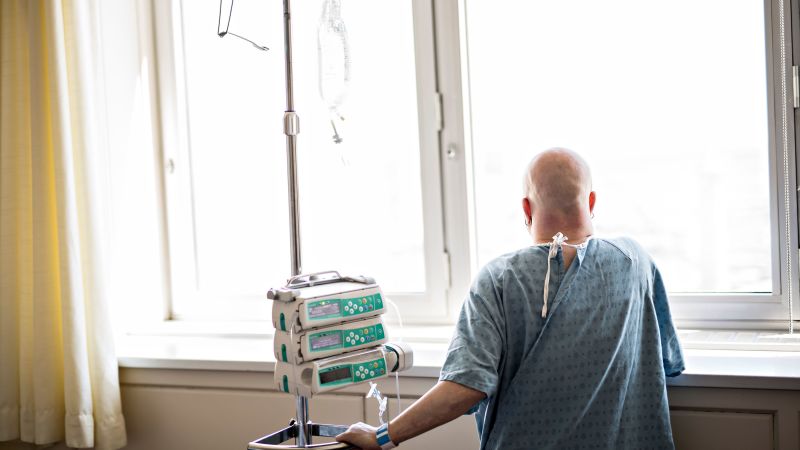 CNN
—

The rate of people dying from cancer in the United States has steadily declined over the past three decades, according to a new report from the American Cancer Society.
The US cancer death rate has dropped 33% since 1991, which corresponds to an estimated 3.8 million deaths averted, according to the report published Thursday in CA: A Cancer Journal for Clinicians. The rate of lives lost to cancer continued to decline in the most recent year for which data are available, between 2019 and 2020, at 1.5%.
The 33% decline in cancer mortality is "truly remarkable," said Karen Knudsen, executive director of the American Cancer Society.
The report attributes this steady progress to improvements in cancer treatment, a drop in smoking and an increase in early detection.
"New insights into prevention, early detection and treatment have resulted in real and significant gains in many of the 200 diseases we call cancer," said Knudsen.
In their report, American Cancer Society researchers also found HPV vaccines associated with reductions in cancer deaths. Infections with HPV, or human papillomavirus, can cause cervical and other cancers, and vaccination has been linked to a decrease in new cases of cervical cancer.
Among women in their 20s, there was a 65% drop in cervical cancer rates from 2012 to 2019, "which fully follows the era when HPV vaccines were put into use," said Dr. William Dahut, scientific director of the society.
"There are other cancers related to HPV – whether it's head and neck cancers or anal cancer – so there's optimism that this will matter beyond that," he said.
The lifetime probability of being diagnosed with any type of invasive cancer is estimated to be 40.9% for men and 39.1% for women in the United States, according to the new report.
The report also includes projections for 2023, estimating that there could be nearly 2 million new cases of cancer — equivalent to about 5,000 cases a day — and more than 600,000 cancer deaths in the United States this year.
During the early days of the Covid-19 pandemic, many people skipped regular medical checkups, and some doctors noted an increase in cases of advanced cancer after tests and treatments were delayed by the pandemic.
The American Cancer Society researchers were unable to track "that reduction in screening that we know we've all seen across the country during the pandemic," Knudsen said. "This time next year, I believe our report will provide an early look at what the pandemic's impact on cancer incidence and mortality has been."
The new report includes data from national programs and registries, including those from the National Cancer Institute, the US Centers for Disease Control and Prevention and the American Association of Central Cancer Registries.
The data showed that the US cancer death rate increased throughout most of the 20th century, largely due to an increase in smoking-related lung cancer deaths. Then, as smoking rates have fallen and improvements in early detection and treatment of some cancers have increased, there has been a decline in the cancer death rate since its peak in 1991.
Since then, the pace of decline has slowly accelerated.
The new report found that the five-year relative survival rate for all cancers combined increased from 49% for diagnoses in the mid-1970s to 68% for diagnoses during 2012-18.
The types of cancer that now have the highest survival rates are thyroid at 98%, prostate at 97%, testis at 95% and melanoma at 94%, according to the report.
Current survival rates are lowest for pancreatic cancers, at 12%.
The finding of a decreasing cancer death rate shows "continuing good news," said Dr. Otis Brawley, a professor of oncology at Johns Hopkins University who was not involved in the research.
"The biggest reason for the decline that began in 1991 was that the prevalence of smoking in the United States began to decline in 1965," said Brawley, former chief medical officer of the American Cancer Society.
"That's why we started to have a decline in 1991, and that decline has continued because the prevalence of smoking in the United States has continued to decline," he said. "Now, in certain diseases, our ability to treat has improved and some people are not dying from the treatment."
While the cancer death rate has steadily declined, the new report also highlights that new cases of breast, uterine and prostate cancers have been "concerning" and are on the rise in the United States.
Breast cancer incidence rates in women have increased by about 0.5% per year since the mid-2000s, according to the report.
The incidence of cervical cancer has increased by about 1% per year since the mid-2000s among women age 50 and older and nearly 2% per year since at least the mid-1990s in younger women.
The prostate cancer incidence rate increased by 3% per year from 2014 to 2019, after two decades of decline.
Knudsen called prostate cancer "an outlier" since its earlier decline in incidence was reversed, appearing to be driven by diagnoses of advanced disease.
On Thursday, the American Cancer Society announced the launch of the Impact initiative, aimed at improving prostate cancer incidence and mortality rates, funding new research programs and expanding patient support, among other efforts.
"Unfortunately, prostate cancer remains the most frequently diagnosed malignancy among men in this country, with nearly 290,000 men being diagnosed with prostate cancer this year," said Knudsen. Cancer diagnosed when it is confined to the prostate has a five-year survival rate of "greater than 99%," she said, but for metastatic prostate cancer there is no durable cure.
"Prostate cancer is the second leading cause of cancer death in men in this country," she said. "What we are reporting is not just an increase in the incidence of prostate cancer across all demographics, but a 5% year-over-year increase in the diagnosis of men with more advanced disease. So we're not detecting these cancers early, when we have the opportunity to cure men with prostate cancer."
Breast, uterine, and prostate cancers also exhibit wide racial disparity, with communities of color having higher death rates and lower survival rates.
In 2020, the risk of overall cancer death was 12% higher in blacks compared to whites, according to the new report.
"Not every individual or family is affected equally," Knudsen said.
For example, "Black men unfortunately have a 70% increase in prostate cancer incidence compared to white men and a two- to four-fold increase in prostate cancer mortality over any other ethnic and racial group in the United States. United States," she said.
Data from the new report demonstrate "important and consistent" advances against cancer, said Dr. Ernest Hawk, vice president of cancer prevention and population sciences at the University of Texas MD Anderson Cancer Center, in an email.
"Cancer is preventable in many cases and detectable at an early stage, with better outcomes in many others. When needed, treatments are improving in their effectiveness and safety. This is great news," Hawk wrote.
"However, it is past time that we took health inequalities seriously and made them a much greater national priority. Inequalities in cancer risk, cancer treatment and cancer outcomes are intolerable, and we should not be complacent with these regular reminders of avoidable inequalities," he said. "With deliberate and dedicated effort, I believe we can eliminate these disparities and make even greater progress towards ending cancer."
The new report shows "great progress," said Dr. Danielle Carnival, White House Moonshot project coordinator, in a statement released on Thursday.
The White House's "Cancer Moonshot" initiative, which President Biden relaunched last year, commits the nation to working to reduce the cancer death rate by at least 50% over the next 25 years.
"The report showing that the United States has reduced cancer deaths by one-third over the past 30 years is great progress, which we have achieved by reducing smoking rates, improving early detection and providing better treatments for many types of cancer. This means that millions of American families have been spared the immeasurable loss of a loved one," Carnival said in a statement.
"The report also underscores that there is more work to be done to save more lives," she said. "President Biden's vision for ending cancer as we know it is building on the progress we've made with an all-out effort to develop new ways to prevent, detect and treat cancer – and ensure that the tools we have and those we've developed around along the way they reach all Americans."
.