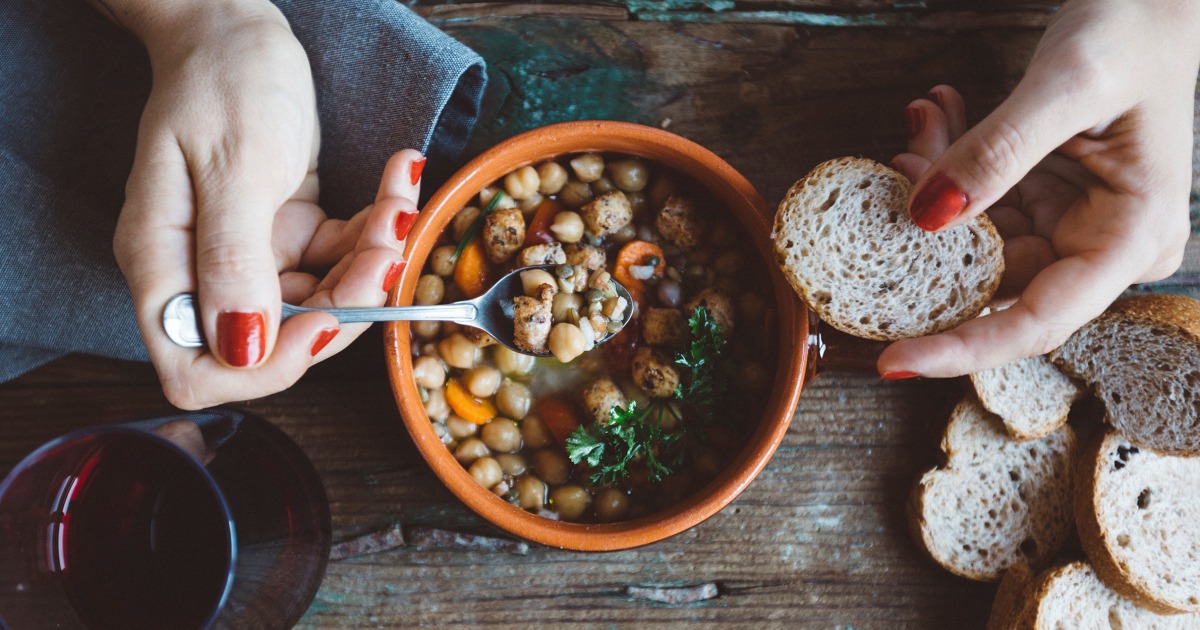 For the sixth year in a row, the Mediterranean diet — a way of eating focused on whole grains, fruits, vegetables, lean proteins and healthy fats — is the best overall diet, according to US News & World Report's annual rankings. The DASH diet, which aims to lower blood pressure, and the flexitarian diet, a modified vegetarian eating pattern, tied for second place to round out the top three overall diets.
"The reasons (why the Mediterranean diet is popular) are quite simple. You're eating delicious whole foods. It's backed by decades of research showing its health benefits for a variety of conditions," Gretel Schueller, editor-in-chief of health for US News & World Report, told TODAY.com. "It's healthy. It doesn't eliminate any specific food groups or foods. So it allows it to be sustainable."
The top five overall diets are:
mediterranean diet
DASH diet and flexitarian diet (tie)
MIND diet
TLC diet
The Mediterranean diet also took first place in several other categories, including Best Diet for Bone and Joint Health, Best Family Diets, Best Diet for Healthy Eating, and Best Plant-Based Diet. WeightWatchers ranked #1 in Best Weight Loss Diets and Best Diet Programs.
"When we talk about the Mediterranean diet, it's more of a lifestyle, and therefore we can talk about how to apply it to a variety of cuisines," says Schueller. "You're looking at foods high in fiber and whole grains, and (this) includes lots of whole foods and moderate amounts of healthy fats."
What's new for 2023
This year, the publication's panel of 30 experts evaluated 24 different diets and eating plans on how well they work across 11 categories. In the past, they've looked at 40 diets, but that number has changed for a variety of reasons.
"If you really look at the diet lists, many of the ones we ranked last year still exist. They were incorporated into one of 24 classified diets. For example, vegan and vegetarian, we used to always have them as separate classified diets," says Schueller. "There are a variety of reasons why we include them in all of our diets, and I think the big reasons are one: there has been a growing movement towards plant-based eating."
Other diets have fallen out of favour.
"(The Health Management Resources Program) no longer exists, and there are some commercial diets where company founders no longer support the diet," says Schueller. "We felt that it no longer made sense to classify them."
US News has added two new categories into which they rank diets: the best diets for the whole family and the best diets for bone and joint health.
"We are always looking for new health conditions that make sense to examine. And the reality is that the population is aging, and bone and joint health is basically about conditions like osteopenia and osteoporosis, as well as arthritis," says Schueller. "Diets that are highly rated for bone and joint health provide adequate calcium, vitamin D, and vitamin K and also promote physical activity."
When it comes to family diets, experts consider the budget and the ease of finding enjoyable ingredients that fit certain diets.
"You want to make sure the eating plan delivers the right nutritional value for different calories and nutritional needs for different people of different ages, different activity levels, different health conditions," says Schueller.
What makes food sustainable?
Poorly performing diets, including the raw food (#24 overall), keto (#20 overall), and Atkins (#21 overall) diets require people to cut back on foods and often include too many rules. This makes it difficult for people to sustain them over the long term.
"These very low-carb diets are very popular because people can see very significant results very quickly," Camila Martin, a registered dietitian at UW Health in Madison who was not involved in the US News rankings, told TODAY.com. "We will see really rapid weight loss. But a lot of that really is due to fluid changes, not because of actual changes in body composition."
While people may feel satisfied with the initial weight loss, experts say it is usually not long-lasting.
"They are not sustainable," says Martin. "Carbohydrates are things that people find very comforting. They are the mainstay of many traditional diets and in many different cultures. They are easy to grow and[offer]a very nutritious sensation."
She also notes that because of the complexity of these diets, people often take shortcuts that may not be healthy.
"A lot of times people go keto and only eat bacon five times a day, and that's a pretty big amount of meat," Martin says. "In fact, it can lead to an increase in cardiovascular disease. So we might see some weight loss quickly. But we could be putting heart health in danger."
Well-performing diets including Mediterranean, TLC, flexitarian and DASH remain popular because they are more intuitive for people to follow.
"The nice thing is that the Mediterranean is relatively user-friendly. The structure is similar to the Healthy Eating Plan (US Department of Agriculture)," explains Martin. "It's very modifiable based on what people have access to, even with limited resources."
This means that these diets appeal to a large portion of the population. Eating specially made snacks or buying shakes or meal plans can be difficult for people with budget constraints, she says. What's more, these diets encourage people to move their bodies.
"They'll focus on regular exercise," says Martin. "The diets that end up being the best are things like how affordable it will be and how much people can modify it to suit their lifestyles and how we can turn that into something positive."