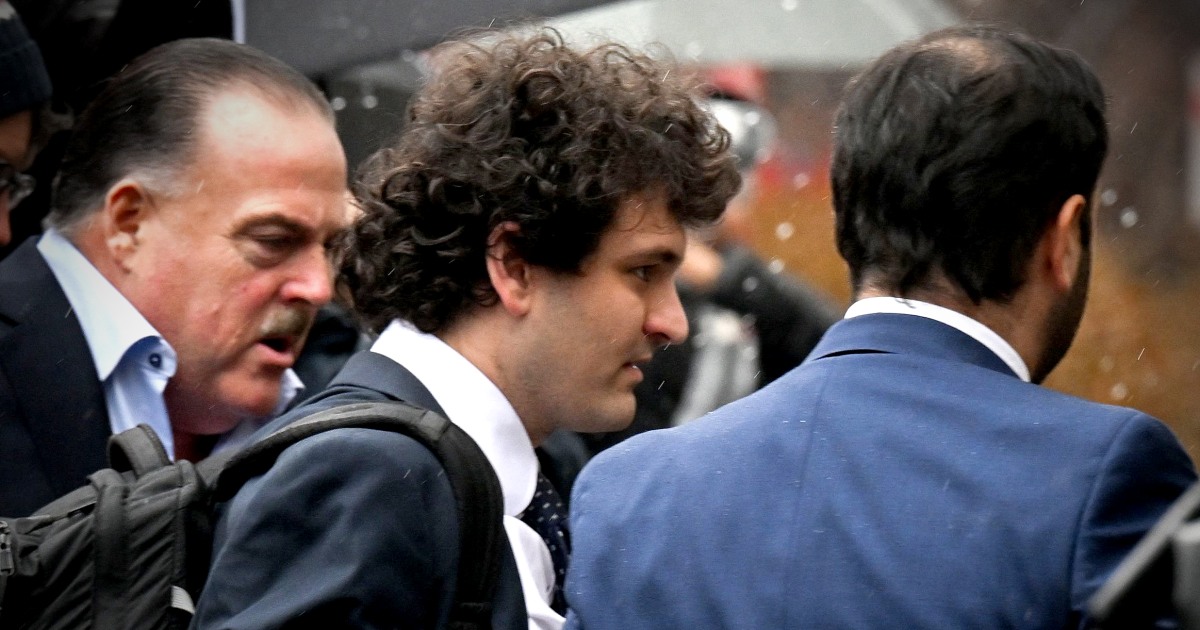 Sam Bankman-Fried pleaded not guilty in New York federal court on Tuesday to eight counts related to the collapse of his former crypto exchange FTX and hedge fund Alameda Research.
The former crypto billionaire was indicted on charges of conspiracy to commit wire fraud and securities fraud, individual counts of securities fraud and wire fraud, money laundering and conspiracy to avoid campaign finance regulations.
The trial will begin on October 2nd.
Bankman-Fried arrived outside the courthouse in a black SUV and was surrounded by cameras from the moment his vehicle arrived. The melee got so thick that Bankman-Fried's mother couldn't get out of the vehicle, falling onto the wet pavement as cameras scrambled to get a look at her son.
Bankman-Fried was pulled through security through the crowd into the courtroom in a matter of moments, with photographers scrambling to get out of the way.
Earlier in the day, Bankman-Fried's attorneys filed a motion to seal the names of two individuals who secured Bankman-Fried's release on bail with bail. They claimed that the visibility of the case and the defendant had already put Bankman-Fried's parents at risk and that guarantors should not be subject to the same scrutiny. Kaplan approved the motion in court.
Federal prosecutor Danielle Sassoon told the court that Bankman-Fried had worked with foreign regulators to transfer assets that FTX's US management had been trying to recover through Chapter 11 bankruptcy proceedings.
Regulators in the Bahamas and FTX lawyers in the US have been battling it out in Delaware bankruptcy court for weeks over hundreds of millions, if not billions, of dollars in cryptocurrency. FTX lawyers insist that Bahamian regulators illicitly transferred hundreds of millions of dollars and that Bankman-Fried helped them.
Bahamian regulators say local laws give them jurisdiction over those assets and challenge the validity of US Chapter 11 procedures.
Federal prosecutors seem to agree with FTX lawyers in the US. Sassoon asked Kaplan to impose a new restriction preventing Bankman-Fried from transferring or accessing FTX client assets. The judge also approved this motion.
Bankman-Fried returned to the United States from the Bahamas on December 21 and the next day was released on $250 million bail secured by his family's California home.
Federal prosecutors also announced the launch of a new task force to recover victims' assets as part of an ongoing investigation into Bankman-Fried and the FTX collapse.
"The Southern District of New York is working around the clock to respond to the FTX implosion," US Attorney Damian Williams said in a statement on Tuesday.
The U.S. Attorney's Office for the SDNY argued that Bankman-Fried used $8 billion in client assets for extravagant real estate purchases and vanity projects, including stadium naming rights and millions in political donations.
Federal prosecutors crafted the case against Bankman-Fried with unusual speed, piecing together criminal charges against the 30-year-old in a matter of weeks. The federal charges came alongside complaints from the Commodity Futures Trading Commission and the Securities and Exchange Commission.
They were aided by two of Bankman-Fried's closest allies, Caroline Ellison, former CEO of his hedge fund Alameda Research, and Gary Wang, co-founder of FTX with Bankman-Fried.
Ellison, 28, and Wang, 29, pleaded guilty on Dec. 21. Her dealings with prosecutors came after rampant speculation that Ellison, Bankman-Fried's former romantic partner, was cooperating with federal investigations.
Another former FTX executive, Ryan Salame, apparently first alerted regulators to alleged wrongdoing within FTX. Salame, the former co-CEO of FTX, flagged "possible mismanagement of client assets" to Bahamian regulators two days before the cryptocurrency exchange filed for bankruptcy protection, according to a Securities and Exchange Commission filing. from the Bahamas.
Bankman-Fried was accused by federal law enforcement and financial regulators of perpetrating what the SEC called one of the largest and most "brazen" frauds in recent memory. His stunning fall was precipitated by reports that raised questions about the nature of his hedge fund's balance sheet.
In the weeks since FTX's Nov. 11 bankruptcy filing in Delaware, the extent of Bankman-Fried's alleged misconduct has been exposed. Replacement CEO John J. Ray said there was a "complete failure of corporate control".
Bankman-Fried was indicted in federal court in New York on December 9 and was arrested by Bahamian police at the request of US prosecutors on December 12. After her indictment, Bankman-Fried's legal team in the Bahamas changed whether or not her client would consent to the extradition.