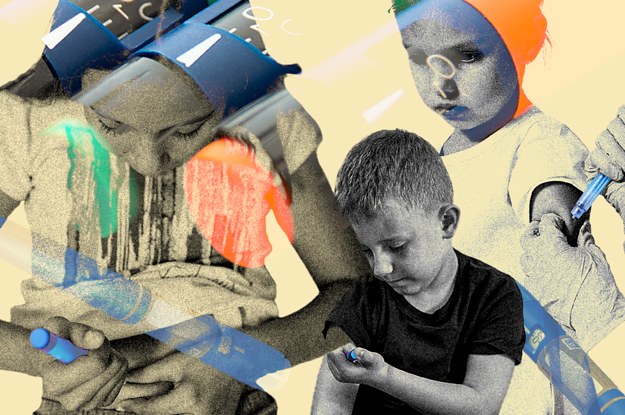 These side effects seem a far cry from using an inhaler or undergoing professional-grade albuterol treatments, but in the AAP's opinion, these are necessary sacrifices. "What it offers patients is the possibility of even having a near-normal body mass index," said pediatrician Dr. Claudia Fox to the Associated Press. "It's like a whole different level of improvement." For children under 13, pediatricians are prescribing Wegovy, a drug made by Novo Nordisk, which received authorization from the Food and Drug Administration on Dec. 23 to be prescribed as a weight-loss drug. (A different form of the drug is prescribed to treat diabetes.) Fox told the AP that she immediately prescribed Wegovy, which costs about $1,300 a month and is not usually covered by insurance, for a 12-year-old patient.
The AAP's updated guidelines are part of an effort among researchers, clinicians and scientists to complicate the ways in which we think about obesity. In a recent segment for 60 minutes, correspondent Lesley Stahl chimed in on this conversation, which has raged across America for more than two decades. Stahl convenes experts and people affected by the so-called disease to offer context and perspective on how obesity has become, according to the Centers for Disease Control and Prevention, a "common, serious, and expensive disease" that affects 41.9% of Americans. , leads to the development of several chronic diseases, such as type 2 diabetes, hypertension, stroke and various types of cancer, and costs the United States nearly $173 billion to treat.
Ever since the CDC declared obesity an epidemic in 1999, doctors, scientists and researchers have been trying to understand the reasons why Americans are bigger than ever. Many reasons have been raised: in 1999, then CDC director Jeffrey P. Koplan blamed a steady decline in physical activity, to which he offered a multifaceted remedy: counseling obese patients in doctors' offices, offering healthy food choices and opportunities to exercise. in schools and workplaces, and building more sidewalks and bike lanes in urban areas.
Since then, America has tried everything from implementing fresher, healthier menus in elementary schools to fat-shaming people and classifying obesity as a disease, but nothing has really stopped Americans from gaining weight. During the 60 minutes In the segment, Dr. Fatima Cody Stanford, an obesity physician at Mass General Hospital and professor at Harvard Medical School, challenges the way we've been taught to think about obesity as a disease. As she notes, it's not about "willpower" or simply "diet or exercise." "My last patient I saw today was a 39-year-old woman who struggles with severe obesity," said Stanford. "She is working out 5-6 times a week, consistently. She is eating very little. Her brain is defending a certain set point. In Stanford's view, the brain controls how much food the body needs to eat and how much it stores within the body.
She also argues that obesity is genetic: in other words, if you were born to fat parents, there's a 50 to 85 percent chance you'll be fat, even if you change your diet, exercise, sleep well, and manage your stress. Obesity, then, is not a moral failing; it's more complex than that, and yet Wegovy and her counterpart, Ozempic, are being touted as possible solutions to this growing epidemic. Rather than simply focusing on metabolism, these drugs are designed to connect the brain and stomach while suppressing the appetite. They are also touted as effective drugs: Ozempic, Wegovy and other prescription obesity drugs induce a weight loss of 15 to 22% of total body weight. Most people start with 0.25 milligrams a week and, depending on each patient's side effects, go up to 0.5 milligrams after a month. Eventually, over time, patients move up to 2.4 milligrams, which is the highest dose with the greatest return. The average weight loss at this level is 15 to 17%, and one third of these patients have 20% weight loss.
Of course, there is a problem 22: after stopping the medication, most people regain the weight they lost. In that way, these medications are no different than any other diet — and they come with even more dire side effects. As said by Dr. Caroline Apovian, co-director of the Center for Weight Management and Wellness at Brigham and Women's Hospital in Boston 60 minutes, side effects can range from nausea, vomiting and diarrhea to pancreatitis. There are also other side effects that haven't been studied: Mila Clarke, who started taking Ozempic for latent autoimmune diabetes in 2021, told the Cut that she started having heart symptoms a week after taking Ozempic. "I could feel my heart pounding in my chest," she said. "It was hard to breathe. I woke up in the middle of the night with these heart palpitations. And I just couldn't take it anymore."
This isn't the first time doctors have sold a miracle cure for obesity without considering the possible consequences. In the 1990s, as concerns about Americans' size grew, physicians began describing the drug combination fenfluramine (an appetite suppressant) and phentermine (a type of amphetamine), better known as fen-phen, for patients with the express aim of helping them lose weight. The Food and Drug Administration approved the sale of fen-phen and doctors began prescribing it, but in 1997, amid an increase in fen-phen users developing heart problems, including pulmonary hypertension and leaky heart valves, the manufacturers Wyeth-Ayerst Laboratories and Interneuron Pharmaceuticals were forced to pull their products from shelves. Several people have died from complications of their heart ailments. Eventually, 175,000 people filed lawsuits against Wyeth-Ayerst, and the company settled the lawsuits for an estimated $21 billion.