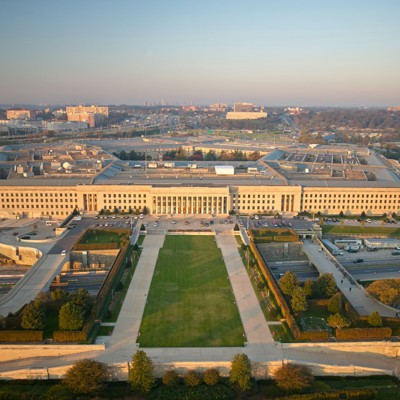 The Pentagon's inspector general reported Thursday that a former senior Defense Department official, now employed by the Office of Personnel Management, used racial slurs, sexually harassed female employees and drank during work hours, creating an "environment of offensive work" to his subordinates.
Douglas Glenn, a career member of the Senior Executive Service, joined the Department of Defense as Assistant Deputy Chief Financial Officer in 2018 before being promoted to Deputy Chief Financial Officer in 2020 and, from January to April 2021, temporarily served as Under Secretary of Defense (controller). In November 2021, he transferred to OPM, where he serves as the agency's Chief Financial Officer.
The Department of Defense Inspector General's report investigates several anonymous complaints about Glenn's conduct in the workplace, cataloging a list of sexually suggestive comments made to female employees, as well as two instances in which he was racially insensitive in meetings with subordinates.
The Inspector General saw several instances where Glenn used phrases like "all balls, no weeds," commented on "how young" a female subordinate looked, and described another employee as a "hot blonde."
"The fourth subordinate told us that in November 2021, Mr. Glenn was on speaker phone telling another subordinate that Mr. Glenn expected some stallion to be rubbing oil on her back on the beach," the report states.
Glenn denied making sexually suggestive comments and said "the comments didn't sound like anything he would say".
The report also highlights an incident during a February 2021 general meeting where Glenn, against the advice of two subordinates, discussed a 2013 speech by former President Obama describing experiencing racism when hearing people lock their car doors while he passed by their vehicles.
"They said that Mr. Glenn told the public that people who locked their car doors 'may not have been racist' or had other reasons for locking them," the report states. "Seven of the eight subordinates told us that Mr. Glenn about President Obama's experience with racism left them and other subordinates feeling shocked, surprised, betrayed, stunned and very confused, and that it was an inappropriate and insensitive thing to say."
Glenn argued that he was trying to show how "people can see things differently" on racial issues.
"Who are the people in the car locking the doors?" Glenn told the inspector general's office. "Maybe they are racist. Perhaps they are looking at a black man and assuming there is high theft potential. Or maybe they're just following National Highway Administration guidelines to lock your doors when you drive. Can be anyone."
At the same all-hands meeting, Glenn summoned an Asian-American subordinate to describe how she felt as an "Asian woman in a department that considers China its biggest threat." Glenn told investigators that while the exchange was "awkward", he thought he had "approved" it with the employee ahead of time.
"Sir. Glenn said he believes the general meeting went 'sufficiently well' and has not received any feedback from staff expressing concerns about the content of the meeting," the inspector general wrote.[He] also stated that his performance rating for that time period was 'Exceeds Totally Successful', leading him to believe that no one complained to his supervisor about his general comments.
But weeks later, Glenn told some of his subordinates that he wanted to hold a second all-hands meeting on diversity and inclusion. During that discussion, he described an anecdote he would tell in which he used the N-word.
"[In the story]Mr. Glenn complimented a former colleague on a sweater [they] used, and the former colleague replied that [they] used to stop all negative comments," reports the report. "However, Mr. Glenn misheard his colleague and thought [they] told to stop all comments with N words. [A witness] said that the colleague of Mr. Glenn corrected him and said [they] didn't say the N-word but said 'negative comments'. [A witness] told us that Mr. Glenn said he thought the misunderstanding was funny because 'when he told this story to a black man, the black man looked at him in horror. But when he tells that story to white friends, the white friends laugh and think it's hilarious.'
Glenn confirmed he used the racial slur, spelling it out when asked to clarify exactly which word he used, but said the story was intended to "highlight the different reactions he's received and explain why it's hard to discuss race."
"Sir. Glenn told us that he observed the reactions of each subordinate as he told the story and did not believe anyone was offended," the report states. "He said there was a 'very productive conversation between all of us.' said that he watched the reactions of each subordinate as he told the story and did not believe that anyone was offended."
The Inspector General also verified two cases in which Glenn drank alcoholic beverages during working hours and offered them to subordinates. Glenn acknowledged that he stored alcohol in his office and occasionally drank, mostly after hours, but stopped when he learned that employees are required to obtain written authorization to do so.
As Glenn is no longer an employee of the Department of Defense, the inspector general said he forwarded his findings to OPM Director Kiran Ahuja "to take appropriate action." OPM confirmed Thursday that the agency has received the report and is reviewing it.
.