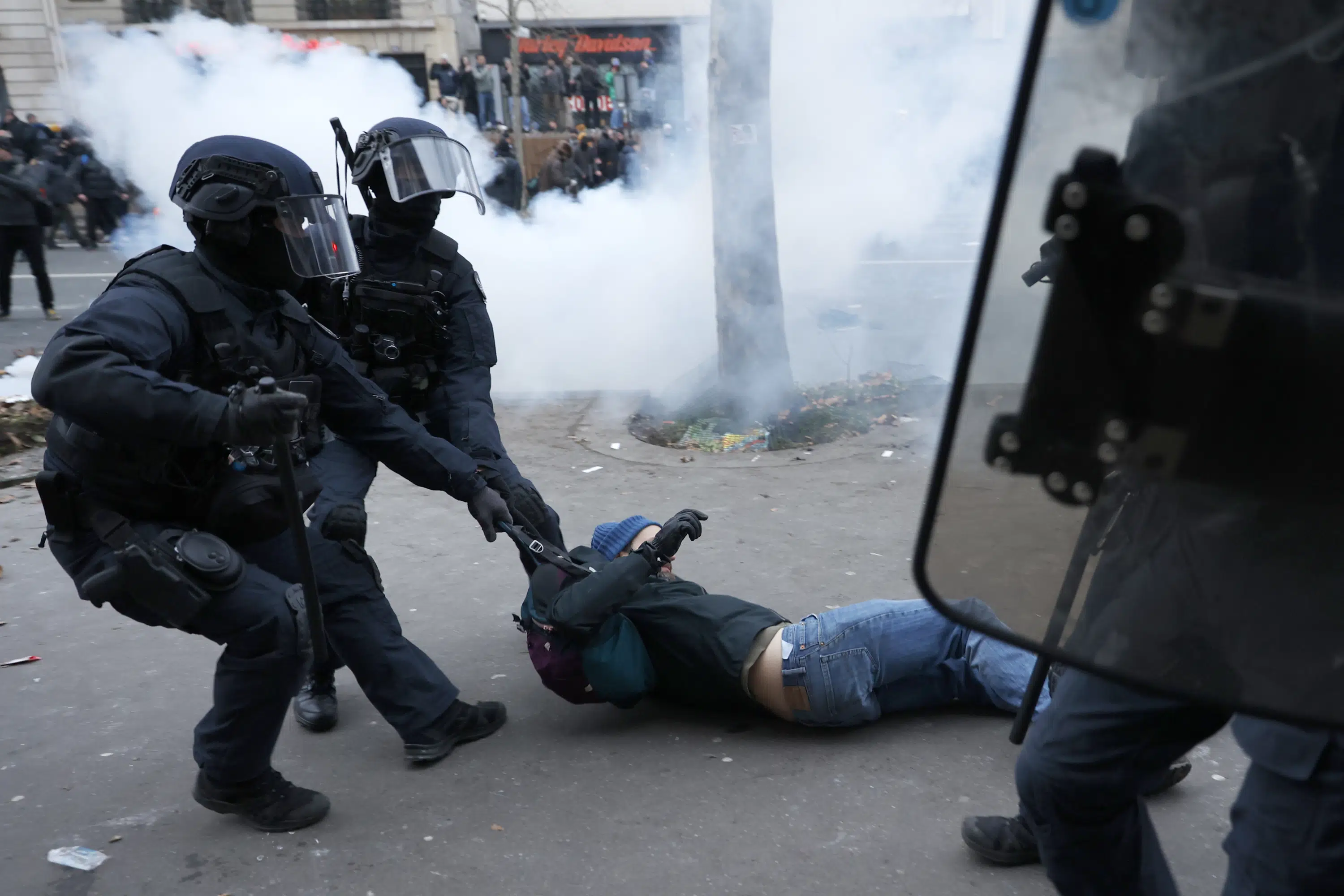 PARIS (AP) – Hundreds of thousands protested in the streets of Paris and other French cities on Thursday amid nationwide strikes against plans to raise the retirement age, but President Emmanuel Macron insisted he would push ahead with pension reforms proposals.
Nationwide strikes severely disrupted transport, schools and other public services across France.
During a press conference at a Franco-Spanish summit in Barcelona, ​​Spain, Macron said that "we must do this reform" to "save" the pension system.
"We will do this with respect, a spirit of dialogue, but also determination and responsibility," he added.
As Macron spoke, riot police retreated against some demonstrators throwing projectiles on the sidelines of the peaceful Paris march. A few other minor incidents briefly occurred, prompting officers to use tear gas.
Paris police said about 30 people had been detained.
French workers would have to work longer before receiving a pension under the new rules – with the nominal retirement age rising from 62 to 64. In a country with an aging population and rising life expectancy where everyone receives a state pension, Macron's government says reform is the only way to keep the system solvent.
Unions argue that pension reform threatens hard-won rights and propose a tax on the rich or more employers' payroll contributions to fund the pension system. Polls suggest that a majority of French people are also opposed to the reform.
More than 200 rallies were held across France on Thursday, including a large one in Paris involving all of France's major unions.
The CGT union said more than 400,000 people demonstrated in Paris. Authorities have yet to provide figures.
Jean Paul Cachina, 56, a human resources worker, joined the march in the French capital – a first for him.
"I'm not here for myself," he said. "I'm here to stand up for youth and workers doing demanding jobs. I work in the construction industry and I am a first-hand witness of the suffering of workers."
Many young people were among the Paris crowd, chanting "the youth is protesting. Macron, you are finished." High school student unions urged members to join the protests.
Nathan Arsac, 19, a student and member of the UNEF union, said: "I'm afraid of what will happen next. Losing our social achievements can happen very quickly. I am afraid of the future, when I will get older and have to retire."
Sylvie Béchard, a 59-year-old nurse, said she joined the march because "we health workers are physically exhausted".
"The only thing we have is to protest and block the country's economy," he added.
The economic cost of the strikes was not immediately clear. The government fears that a big show of resistance on Thursday could encourage unions to continue prolonged shutdowns that could cripple the economy as France grapples with inflation and tries to boost growth.
Unions of police officers opposed to pension reform also took part in the protests, while those on duty brace for possible violence if extremist groups join the demonstrations.
Most rail services in France have been cancelled, including some international connections, according to the SNCF rail authority. Around 20% of flights leaving Paris Orly airport have been canceled and airlines warned of delays.
The Ministry of National Education said that between 34% and 42% of teachers were on strike, depending on the schools.
National electricity company EDF announced that power supplies were substantially reduced on Thursday amid the strikes.
Thierry Desassis, a retired professor, called the government's plan "an aberration".
"It's at 64 that you start to have health problems. I'm 68 years old and in good health, but I've started seeing doctors more often," he said.
The strike also affected some monuments. The Palace of Versailles was closed on Thursday, while the Eiffel Tower warned of potential disruptions and the Louvre Museum said some exhibition halls would remain closed.
Philippe Martinez, general secretary of the CGT union, urged Macron to "listen to the street".
Laurent Berger, head of the CFDT union, called the reform "unfair" and said "there will be other days of action".
Many French workers expressed mixed feelings about the government's plan and pointed to the complexity of the pension system.
Quentin Coelho, 27, a Red Cross worker, felt he had to work on Thursday, despite understanding "most of the strikers' demands". With an aging population in the country, he said, raising the retirement age "is not an efficient strategy. If we do that now, the government might decide to raise it even more in 30 or 50 years. We cannot predict."
Coelho said he doesn't trust the government and is already saving money for retirement.
French Labor Minister Olivier Dussopt acknowledged "concerns" motivated by pension plans that will require workers to make "an additional effort".
Speaking on LCI television, Dussopt justified the choice to delay the retirement age because the government had rejected other options involving raising taxes – which he said would hurt the economy and cost jobs – or reducing pensions.
The French government is formally presenting the pensions bill on Monday and will go to parliament next month. Its success will depend in part on the scale and duration of strikes and protests.
Most opposition parties, including the left and far right, are strongly opposed to the plan. Macron's centrist alliance lost its parliamentary majority last year but still has the most important group in the National Assembly, where it has a good chance of allying with the conservative Republican Party to pass pension reform.
Under the planned changes, workers must have worked for at least 43 years to be entitled to a full pension. For those who did not meet this condition, such as many women who interrupted their careers to raise children or those who studied hard and started working late, the retirement age would remain unchanged at 67.
Those who started work early, under the age of 20, and workers with serious health problems could take early retirement.
Protracted strikes were Macron's latest effort to raise the retirement age in 2019. He ended up withdrawing it after the COVID-19 pandemic.
Retirement rules vary widely from country to country, making direct comparisons difficult. The official retirement age in the United States is now 67, and countries in Europe have been raising retirement ages as populations age and fertility rates drop.
But opponents of Macron's reform note that under the French system, people are already required to work more years overall than in some neighboring countries to receive a full pension.
The plan is also seen by many as a threat to the welfare state that is central to French society.
___
Alexander Turnbull contributed to this report.
.