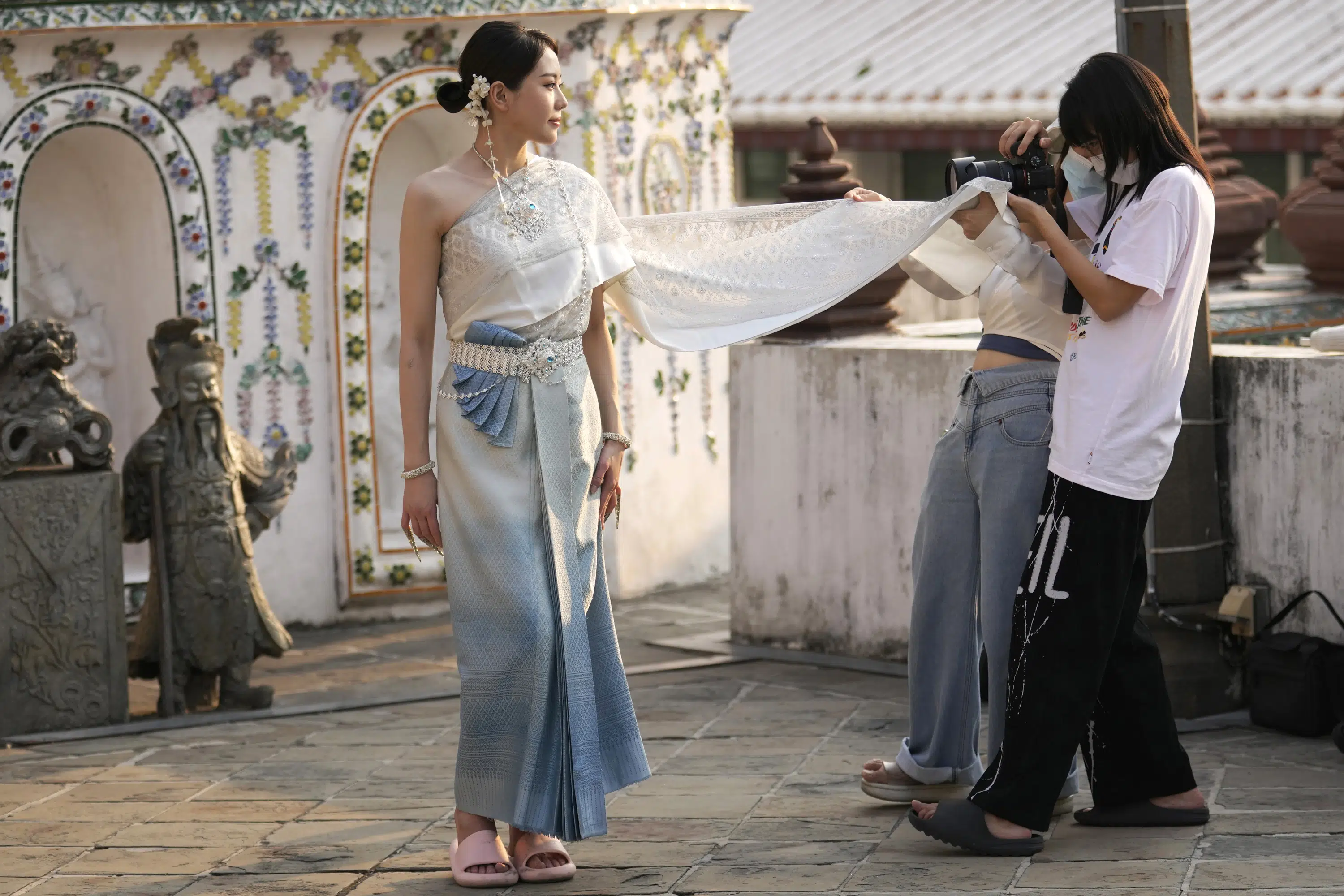 BANGKOK (AP) – An expected boom in Chinese tourism to Asia over next week's Lunar New Year holidays appears to be more of a blip as most travelers opt to stay in China if they're going anywhere.
From the beaches of Bali to the powder ski slopes of Hokkaido, the hordes of Chinese often seen in pre-COVID days will still be missing, tour operators say.
It is a bitter disappointment for many companies that had hoped the pandemic times were over after Beijing relaxed travel restrictions and stopped requiring weeks-long quarantines. Still, bookings for overseas travel have soared, suggesting it's only a matter of time before the sector recovers.
"I think tourists will return at the earliest in late February or early March," said Sisdivachr Cheewarattaporn, president of the Thai Association of Travel Agents, noting that many Chinese people do not have passports, flights are limited and tour operators are still developing. preparing to handle group travel.
Risks from COVID-19 are another big factor as outbreaks persist after China's political upheaval, he said in an interview. "People are possibly not ready or just getting ready."
For now, the Chinese territories of Macau and Hong Kong seem to be the most privileged destinations.
Just days before the start of the Lunar New Year on Sunday, iconic sights of the former Portuguese colony, such as historic Senado Square and the Ruins of St. Paul, were packed. The gaming rooms in two large casinos were practically full, with groups of Chinese visitors seated around the craps tables.
"I'm very busy every day and I don't have time to rest," said souvenir shop owner Lee Hong-soi. He said sales have recovered to around 70% to 80% pre-pandemic days from almost nothing just a few weeks ago.
Kathy Lin was visiting from Shanghai, in part because it was easy to get a visa, but also because she was concerned about the risks of catching COVID-19. "I still don't dare to travel abroad," she said as she and a friend took pictures near the ruins, originally the 17th-century Church of Mater Dei.
That concern is keeping many holiday seekers at home, even after China relaxed "zero COVID" restrictions that sought to isolate all cases with mass testing and onerous quarantines.
"The elderly in my family have not been infected and I don't want to take any risks. There is also the possibility of getting infected again by other variants," said Zheng Xiaoli, 44, an employee of an elevator company in Guangzhou, south China. Africa was on her bucket list before the pandemic, but despite her desire to travel abroad, she said: "There are still uncertainties, so I will hold back."
Cong Yitao, an auditor living in Beijing, was not worried about catching the virus, as his entire family has had COVID-19. But he was put off by testing restrictions and other limits imposed by some countries, including the United States, Japan, South Korea and Australia, after China eased its precautions against the pandemic.
"It seems that many countries don't welcome us," said Cong, who was planning to head to a subtropical destination in China, such as Hainan Island or Xishuangbanna, to take advantage of the warm weather.
According to Trip.com, a major travel services company, overseas travel bookings for the Lunar New Year holidays January 21-27 have increased more than fivefold. But that was almost nothing in the previous year, when China's borders were closed to most travelers.
Bookings for travel to Southeast Asia increased 10-fold, with Thailand the top choice, followed by Singapore, Malaysia, Cambodia and Indonesia.
Travel to other favorite places like the tropical island of Bali and Australia has been limited by a lack of flights. But that's changing, with new flights being added daily.
"You will certainly see an increase compared to last year when China was still closed, but I don't think you will see a huge increase in outbound travelers to different destinations in Asia Pacific, let alone Europe or the Americas. " said Haiyan Song, professor of international tourism at Hong Kong Polytechnic University.
Tourism Australia predicts that spending by international travelers will surpass pre-pandemic levels within a year. Prior to the COVID-19 disruptions, Chinese accounted for nearly a third of tourist spending, nearly $9 billion.
Bangkok's Suvarnabhumi Airport has increased staff to handle more than 140,000 arrivals a day during the Lunar New Year rush, though only individual Chinese travelers are coming for now – group tours from China have yet to resume.
As a bright orange sun set behind ancient Wat Arun beside Bangkok's Chao Phraya River, a Shanghainese man who would give only his last name, Zhang, posed with a companion in traditional Thai garb of colorful silk.
"It's very cold in China and Thailand has summer weather," Zhang said, adding that he knows many people who have booked tickets to escape the cold, wet climate of their hometown.
Still, for many Chinese, the allure of world travel has been eclipsed, for the time being, by the desire to go to their hometowns and catch up with their families, nearly three years to the exact day since the first major outbreak of the coronavirus hit the central city of Beijing. wuhan. in one of the greatest catastrophes of modern times.
Isabelle Wang, a finance officer in Beijing, has traveled to Europe, the Middle East and parts of Asia. After three years of slower living during the pandemic, her priority is to reunite with her family in Shangrao, a city in south central China.
"There's still a lot of time left in our lives and there will certainly be opportunities to go abroad later on when we want to," she said.
___
Leung reported from Hong Kong and Macau. News assistant Caroline Chen in Beijing and Associated Press journalists Rod McGuirk in Canberra, Tassanee Vejpongsa and Chalida Ekvitthayavechnukul in Bangkok, and Edna Tarigan in Jakarta, Indonesia contributed to this report.
.