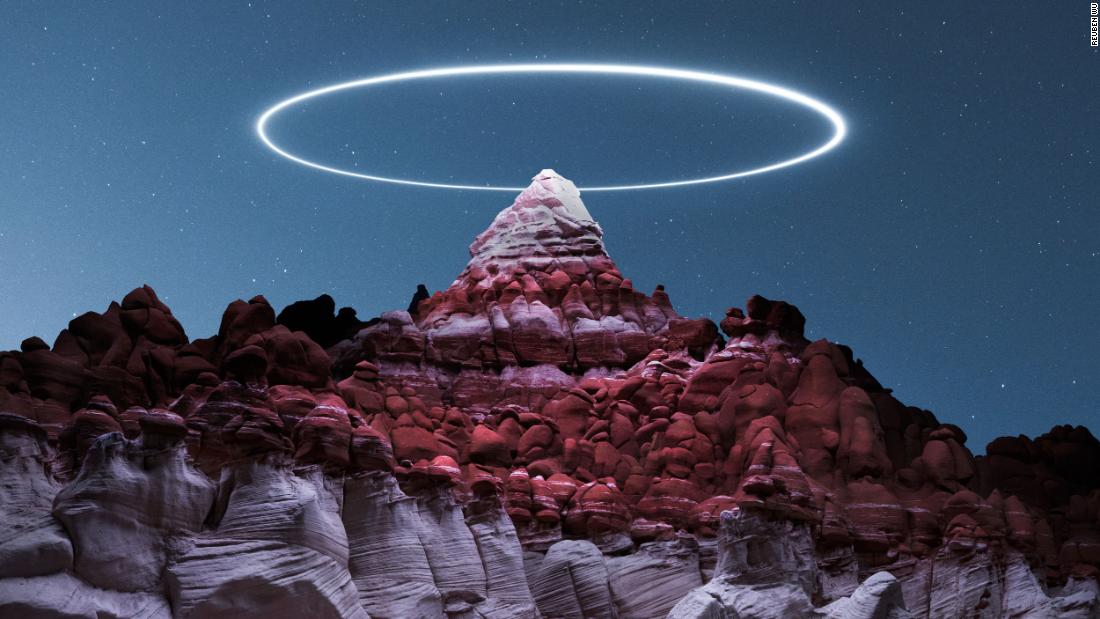 The first time Reuben Wu saw the warm sandstone tones and wide open skies of the American West, he was watching the sights pass him by from the window of a tour bus.
The British visual artist, now based in Chicago, became known for his sublime images of remote landscapes using drone lighting, highlighting craggy peaks with halos or writing glyphs in the sky as signs of a supernatural entity. But for the longest time, art was just a passion project as he focused on a music career as one of four members of the synth-pop band Ladytron.
"(Photography) started as an all-consuming hobby," he explained in a telephone interview. But when Ladytron took a break in 2011 after five studio albums (they released a self-titled sixth album in 2019 and a seventh, "Time's Arrow," this month), he started a new career from scratch. "While others were doing their own solo projects, making their own music and releasing their own albums, this was my solo project."
Wu's images take a classic photographer's combination – light and landscape – and combine the two in transformative ways. He usually starts with evening light or the dark shadows of night, then strategically lights up parts of the scene with custom consumer drones. In one image, a glowing horizontal line hovers over a glacier in the Peruvian Andes, revealing the ice's gleam against a dark sky. In a different movement piece, Wu simulated an electrical storm in Goblin Valley, Utah, but with perfectly straight beams of light rather than jagged bursts of lightning.
The artist's 2018 photo album, "Lux Noctis", is in the collections of the Guggenheim and the Museum of Modern Art in New York, and he has done commercials for Apple, Audi and Google, as well as DJ and music producer Zedd. Last summer, Wu unveiled a colossal project for National Geographic: a cover story and multimedia timelapse piece about Stonehenge, which featured the enigmatic monument lit up by his custom drones. In November, one of his NFTs, a 4K video loop titled "An Irresistible Force", beat its high estimate by more than 25% during an auction at Sotheby's in Hong Kong, selling for HKD 441,000 (about US$56,500). .
"I couldn't have dreamed where I am now," Wu said. "I just wish I could make a living doing art and doing photography."
alien inspiration
Wu was always drawn to wild and remote places where he could find solitude. His parents immigrated to the UK from Hong Kong before he was born, and he grew up as an introverted child in Liverpool, he said, who didn't do well at school. He was fascinated by science fiction films that blended the alien with the everyday, such as Steven Spielberg's "Close Encounters of the Third Kind", which featured Wyoming's Devils Tower as a site of extraterrestrial contact. (Unfamiliar with American topography, he initially thought the mound, a national monument, was a fictional geological entity, he explained with a laugh.)
The film's visuals of remote desert scenes mixed with eerie lights were a formative inspiration in his own work. "(It's) entrenched in my brain, the idea of ​​these seemingly impossible lights moving across the sky, like search lights in very ordinary (American) landscapes," he said.

Reuben Wu has traveled extensively to remote places in the United States and beyond for his work. Here, he traveled to the salt flats of Bolivia, using the vast, empty land as his canvas. Credit: Reuben Wu
He embarked on his first US photography tour in 2013, about a decade after experiencing the road with Ladytron. The resulting series featured vivid depictions of the Grand Canyon and the South Dakota Badlands, as well as a time-lapse image of Devil's Tower at night amid trails of stars.
Two years later, Wu discovered the effect drone lighting could have on the natural world while working on an outdoor automotive shoot.
"I flew the drone over some cliffs and was absolutely blown away by the effect it had on the real landscape," he explained. He made the cliffs glow, reaching areas that would otherwise be impossible to light artificially.

Wu's first inspiration came from "Close Encounters of the Third Kind", inspiring his interest in the American West. Credit: Reuben Wu
Wu mounts lights on drones to meet your needs on any shoot or project. The first iteration, he said, which he used when the technology was still nascent, was a "huge" eight-rotor drone equipped with homemade lights that had only about eight minutes of flight time. The next one used a 3D-printed prop with a warm LED light, but it still only gave him two more minutes in the air. The technology he uses now gives him a little more breathing room, with half an hour to fly, capture footage and get back to him, but he's had to learn to work within the confines of each setting.
"I'm a lot less anxious now because I've already shot down several drones," he said. "And in the end, they're just tools."
experimental series
After developing series of still images such as "Lux Noctis" and "Aeroglyphs", which experiment with ghostly lighting and geometric shapes in the skies, Wu found herself wanting to incorporate movement and sound into her work because of her own musical background. He began creating 15-second video loops from his footage, showing beams of light forming patterns or the moon arching across the sky, to the beats of the atmospheric electronic music he produced.
"These (jobs) were very experimental and didn't have an end goal – they were just things I did for the love of it," he said. "I couldn't license them, I couldn't print them… and then there they were, piling up likes on my Instagram."

Wu was hired to film in various locations, including the badlands of New Mexico. This image came from a 20 hour shoot. Credit: Reuben Wu
But in January 2021, Wu found a way to make them a more substantial part of his career when he was introduced to the NFT art. He coined his first "non-fungible symbol" at the Market's Foundation two months later – an "aeroglyph" of glowing lines forming a rectangle above a seaside cliff. It sold for 30 ETH ($45,000), part of which he donated to the National Parks Conservation Association and the AAPI Community Fund. Later that year, the web3 arts organization Obscura commissioned him to produce a new set of images entitled "Aeroglyph Variations", which took him to the New Mexico desert for a 20-hour shoot that resulted in 55 images of the same scenery, each one with different lighting conditions and patterns. Wu also experimented with presenting the work in different ways, from animations to augmented reality experiences, to projection mapping moving images onto physical prints.
"It's a hybrid medium, so I'd like to expand that horizon even further and think about the end goal of my work," he said. "Am I creating a fine piece of art for people to look at and enjoy, or am I creating an experience for people to share?"
Wu is leaning towards the latter as he continues to experiment with the form his work takes, but no matter the medium, his vision and approach to the natural world remains consistent.
"A lot of people always say my work is out of this world – that's the first word people think of when they think of my work," he said. "But I'm not trying to create an alien-looking image; I'm trying to show that this is our planet. And there are so many new ways available to see it that can refresh your perspective."
.