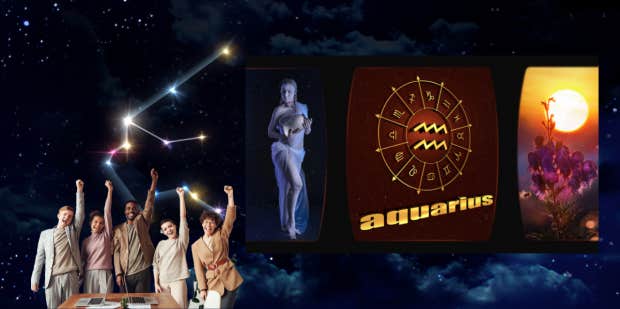 Nothing says, "I think I'll have it my way," more than the heavy, omnipresent influence of a Sun in Aquarius season. Aquarius season begins on January 20th and completes its transit on February 18th, 2023.
In love and life, the remarkable sense of rebellion rings true over time, and while that may 'sound' selfish, it is far from being.
We are so used to fulfilling the crowd's expectations of us that we rarely look to our own needs. During Aquarius season, we will happily tend to our own needs and, in doing so, establish a sense of reality within the framework that constitutes our romantic relationships.
Love may be in the air, but we're not looking for unconditional love; we're talking about the realistic conditions necessary for love to work. We put a lot into the idea of ​​unconditional love, but what is it? Loving a person 'no matter what?'
This is not Love; this is carelessness. Unconditional love has no place in romance; we need our limits, our rules and our space. During Aquarius season, all signs here will see how this rambunctious but spectacular zodiac sign goes about its business.
So during Aquarius season, many of us in established love relationships will set some ground rules. And while 'rules' are the antithesis of the Aquarius way, this zodiac sign drives us to break the rules.
In other words, over the next month, we will be breaking the rules of expectation to establish the rules of freedom within the relationship. Interesting!
Aquarius 2023 season horoscopes for all zodiac signs, January 20th to February 18th, 2023:
Aries
(March 21st to April 19th)
This season, you dare to do that thing you've always wanted to do: tell your partner what they need to do if they want to be with you. Yes! Is this what Aquarius energy brings to you, you ask? Yes, but it will feel good.
On this side of the equation, it looks scary and you feel like you don't want to change things too drastically, but on the other side of the equation, you get what you want no matter what it is, Aries. You know you're strong; it will be in Aquarius season that you will come out of your shell.
Bull
(April 20th to May 20th)
You've wanted to do something but haven't had the courage or resources to do it yet, and that is, of course, traveling with your partner to some exotic location for a vacation and a well-deserved break.
You both feel a little impatient during Aquarius season, and one look into each other's eyes is all it takes to see the wanderlust in them. This season, you'll make plans to go to some destination like Hawaii, or at least make solid travel plans to go at a later date.
Twins
(May 21st to June 20th)
The spirit of the Aquarius season is with you strongly this month, Gemini, as you like to say a firm NO to all things that get in your way. Aquarius season is when people decide to do something for themselves, and in your love life, you may very well decide that you need some time away from your person to think.
What's great is that you chose a person who understands these things and is also inspired by the rebellious flow of the season. Your rebellion will be supported by the person you are trying to get away from. Didn't expect that one, did you?
Cancer
(June 21st to July 22nd)
The strange thing about you and Aquarius season is that the love life affected here is from your past. This could mean that you and an ex-partner have reached a reasonable agreement.
This may imply an amicable divorce or mutual parting of ways. You feel good about it, as everything seems fair and straightforward; no hidden sniper is waiting in the shadows. So Aquarius season influences your love life by closing this door so you can open a new one when you're ready.
Lion
(July 23 to August 22)
Sometimes you take things a little too far, and during Aquarius season, you'll be tempted to screw it up for the fun of it. The 'anti-establishment' vibe that accompanies Aquarius season will have you feeling like a rebel, except that, as in the movie of the same title, you will absolutely become a 'rebel without a cause'.
You have nothing to protest, but the crowd seduces you; you want to be down there with the dirty people, everyone making trouble for no good reason. At least you have someone to come home to.
Virgin
(August 23 to September 22)
You and your band of troublemakers are going to have more fun than you ever planned during Aquarius season. You've recently decided that life isn't worth living if you can't occasionally break a few rules, and that's what Aquarius season gives you: lots of rules to break just because you carelessly can.
Are you doing the right thing yourself? Possibly not, but it's not about doing the right thing for you; it's about doing the wrong thing to piss off the people in your life, especially your romantic partner.
Lb
(September 23 to October 22)
You intend to scold some people, and during Aquarius season, you won't be able to hold back. What's fun for you is that you're not alone in your need to talk; your partner is deeply involved in their business and is on fire too – they want to hang out with you and show everyone who's boss.
What's dangerous here is that while you both love each other while you're doing this, you also feel extreme prejudice towards the people you're talking to. While it all seems 'rebellious and bratty' now, in the end you'll feel like a big babysitter in a dirty diaper.
Scorpion
(October 23 to November 21)
Aquarius season will light a fire beneath you and you will want to use that fire to burn your relationship to the ground. That's right; this is not your ideal month of romance. This is the season where you end things.
You feel like you're suffocating in this relationship, but it took Aquarius season to make you realize just how much. What starts out as a daily battle quickly turns into a simple disrespectful conversation, and when that happens, it's all over. Aquarius season inspires you to let go of the one you're with.
Sagittarius
(November 22nd to December 21st)
Rebelling is something you've always done, but in private. You never want people to know what you're doing; you'd rather surprise them later with your successful rebel moves.
During Aquarius season, you'll feel like the rebels come to the fore again, except that during this time, you'll want everyone to join you. You could lead a rally this month or become the spokesperson for a big event. Where you go, your partner follows, and therefore all your efforts this season will be accompanied by the one you love.
Related stories from YourTango:
Capricorn
(December 22nd to January 19th)
Talk about making lemonade out of lemons, Capricorn! Heck, are you going to change anything this season? You will receive bad news. You'll discuss this with your partner, and the two of you will come up with an outrageously awesome plan for working with the bad news so that you somehow turn it into great news.
During Aquarius season, you and your partner will find a way to overcome obstacles. Pain may be your impetus, but it will be that pain that will lead you to great success.
Aquarium
(January 20th to February 18th)
You feel you have nothing to lose, so your time in the sun will involve risk. You feel like you needed something outrageous to happen in your life, and while you don't want the outrage to be "negative", you want to see something chaotic happen, especially where love is concerned.
You are bored with your love life and intend to change it. Aquarius season is when you shine your brightest; your lighthouse will attract someone who loves the kind of chaos you need in your life.
Fish
(February 19th to March 20th)
You'll do it your own way during Aquarius season, and you'll thank yourself for having the courage to do it. You and your romantic partner need a ride, so to speak, as you both feel this love affair is turning into a festival of mediocrity, and what's the point of that?
Since you're highly motivated and extremely influenced by Aquarius season, you'll be doing that 'big scary' thing and changing things for the better. Sometimes that's how it works for you, Pisces: you need to shake things up so that life doesn't become sedentary.
Ruby Miranda interprets I Ching, Tarot, Runes and Astrology. She has been doing private readings and has worked as an intuitive reader for over 20 years.
.