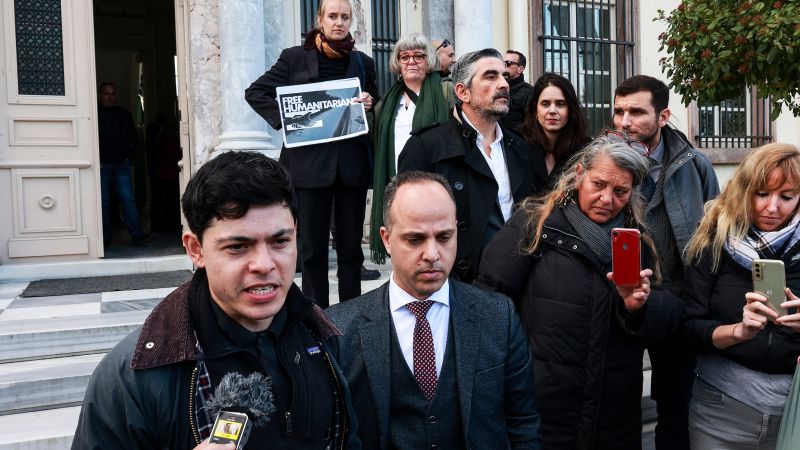 CNN
—

A Greek court has dropped espionage charges against a group of aid workers who rescued migrants from the sea, in a move welcomed by rights groups and lawmakers.
Irish-German citizen Sean Binder and 23 other aid workers had their misdemeanor charges overturned by a court on the island of Lesbos on Friday, however criminal charges against the group remain pending.
The court in the island's capital, Mytilene, has suspended judgment on some of the misdemeanor charges due to "procedural irregularities" in the investigation, Binder's lawyer, Zacharias Kessas, said outside court.
"They recognized that there are certain procedural irregularities that made it impossible for the court to pursue the core of the indictment, so with regard to the misdemeanors, one might say that the charges were dropped," Kessas said.
"But we can't feel happy about that because really they only realized what we were screaming about in the last four years, so there are still a lot of things to be done to get to the final step which is the crimes that are still ongoing and the investigation is still being carried out. In progress".
An Amnesty International statement on Friday said the Lesbos court "sent the indictment back to the prosecutor due to procedural flaws, including a failure to translate the indictment".
Binder and Syrian refugee Sarah Mardini were arrested in 2018 after participating in several search and rescue operations with the nonprofit Emergency Response Center International near Lesbos, an island in the Aegean Sea.
The group faced four charges classified by Greek judicial authorities as "misdemeanors": espionage, divulging state secrets, illegal use of radio frequencies and forgery, according to a statement from the UN Human Rights Office.
The court's decision was welcomed by human rights groups and politicians.
European Union lawmakers said it was "a step towards justice".
UN High Commissioner for Human Rights spokeswoman Liz Throssell welcomed the court's recommendation to drop some of the charges, but reiterated the UN's call "for all charges against all defendants to be dropped".
Binder's elected representative, MEP Grace O'Sullivan, said the indictment was "essentially full of holes" in a video posted on Twitter.
"Good news from Greece. We have just learned that Sean Binder and other search and rescue aid workers have had their charges dropped," she said.
Although the misdemeanor charges were dropped on Friday, an investigation into criminal charges against the aid workers remains pending, Amnesty International said in a statement.
Aid workers are accused of aiding smuggling rings, being members of a criminal organization and money laundering – charges that can carry up to 25 years in prison if found guilty, according to a European Parliament report published in June. from 2021.
Referring to the pending criminal charges, O'Sullivan said, although he did not know how long it would take, "today is really a step in the right direction. A step towards justice."
"All we want is justice. We want this to go to trial and it doesn't look like that's going to happen anytime soon given what happened today," Binder said outside the courtroom.
"At the same time, we were very lucky to have so much international support, everywhere, and I think that forced the prosecution of this court to at least acknowledge the mistakes that were made and, at least to some extent, there was less injustice. "
.