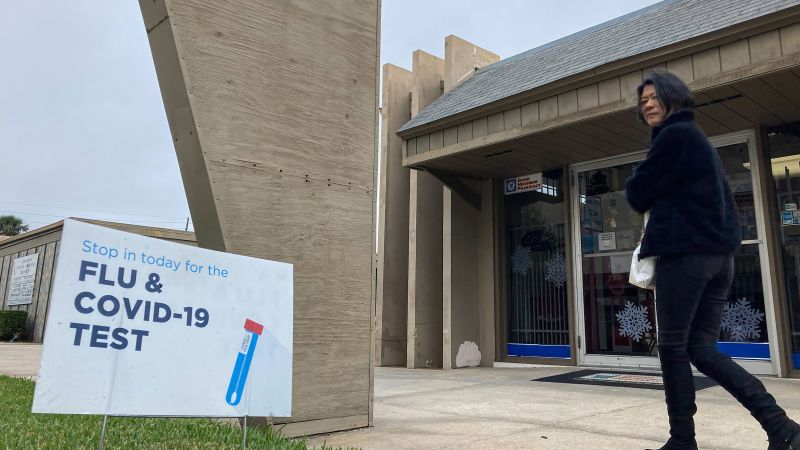 CNN
—

A tough respiratory virus season in the US appears to be winding down, as three major respiratory viruses that have hit the country in recent months are finally subsiding at the same time.
A new dataset from the US Centers for Disease Control and Prevention shows that the number of emergency department visits for the three viruses combined — flu, Covid-19 and RSV — has fallen to a three-month low. The decline is noticeable in all age groups.
Measuring virus transmission levels can be challenging; health officials agree that Covid-19 cases are greatly underestimated and the surveillance systems used for influenza and RSV capture a substantial but incomplete picture.
But experts say tracking emergency department visits can be a good indicator of how widespread — and severe — respiratory virus season is.
"Here is the chief complaint. When you get to the emergency room, you complain about something," said Janet Hamilton, executive director of the Council of State and Territorial Epidemiologists. "Being able to look at the proportion of individuals seeking care in an emergency department for these respiratory illnesses is a good measure of the respiratory illness season."
In the week after Thanksgiving, emergency department visits for respiratory viruses reached 235,000 — rates the same as last January, according to CDC data.
While the increase in emergency department visits at the beginning of the year was due almost entirely to Omicron, the most recent increase has been much more mixed. In the week ending December 3, about two-thirds of visits were for flu, about a quarter for Covid-19, and about 10% for RSV.
Grouping the impact of all respiratory viruses in this way offers important perspective.
"There's a lot of interest in thinking about respiratory disease in a more holistic way," said Hamilton. "The transmission is the same. And there are certain types of measures that are good protection against all respiratory diseases. It can really help people understand that when we are in high circulation due to respiratory illness, there are steps you can take – just generally speaking."
Now, Covid-19 again accounts for the majority of emergency department visits, but flu and RSV are still the reason behind about a third of visits — and all are decreasing for the first time since virus season respiratory rates began to increase in September.
More new data from the CDC shows that overall respiratory virus activity continues to decline across the country. Only four states, along with New York City and Washington, DC, had "high" levels of flu-like illness. Almost all states were in this category less than a month ago.
Whether this pattern will hold remains to be seen, as flu and Covid-19 vaccination rates are lagging behind and respiratory viruses can be quite fickle. Furthermore, although the level of respiratory virus activity is lower than before, it is still above baseline in most places, and hospitals across the country are still around 80% full.
RSV activity began to increase in September, peaking in mid-November, when 5 out of every 100,000 people – and 13 times as many children under age five – were hospitalized in a single week.
RSV particularly affects children, and sales of over-the-counter pain and fever medicines for children were 65% higher in November than a year earlier, according to the Consumer Healthcare Products Association. While "the worst may be over," demand is still high, CHPA spokesman Logan Ramsey Tucker told CNN in an email — sales were up 30% year-over-year in December.
But this RSV season has been significantly more severe than in recent years, according to CDC data. The weekly RSV hospitalization rate has dropped to about one-fifth of what it was two months ago, but is still higher than in previous seasons.
Flu activity increased earlier than usual, but appears to have already peaked. Flu hospitalizations — about 6,000 new admissions last week — are down to a quarter of what they were at their peak a month and a half ago, and CDC estimates for total flu illnesses, hospitalizations and deaths so far this season have remained unchanged. within the limits of what can be expected. It looks like the US has avoided the post-holiday spike that some experts have warned against, but the flu is notoriously unpredictable and it's not uncommon to see a second spike late in the season.
The peak of Covid-19 was not as pronounced as the flu, but hospitalizations surpassed summer levels. However, the surge in hospitalizations that began in November has begun to ease in recent weeks, and CDC data shows that the share of the population living in a county with a "high" community level of Covid-19 has dropped from 22% to around 22%. 6% in the last two weeks.
Still, the XBB.1.5 variant — which has key mutations that experts believe may be helping it to be more infectious — continues to gain ground in the US, causing about half of all infections last week. Vaccination rates remain low, with only 15% of the eligible population receiving the updated booster and nearly one in five people remaining completely unvaccinated.
Cluster forecasts published by the CDC are hazy, predicting a "stable or uncertain trend" in Covid-19 hospitalizations and deaths over the next month.
And three years after the first case of Covid-19 was confirmed in the US, the virus has not settled into a predictable pattern, according to Dr. Maria Van Kerkhove, World Health Organization technical lead for the COVID-19 response.
"We didn't need to have this level of death and devastation, but we are dealing with it and doing what we can to minimize the impact going forward," Van Kerkhove told the Conversations on Healthcare podcast this week.
Van Kerkhove says he believes 2023 could be the year that Covid-19 will no longer be considered a public health emergency in the U.S. and around the world, but more work needs to be done to make that happen and transition to more long-term respiratory disease management of the outbreak will take longer.
"We are simply not using [vaccines] more effectively around the world. I mean, 30% of the world still hasn't received a single vaccine," she said. "In every country in the world, including the US, we are losing important demographic data."
.