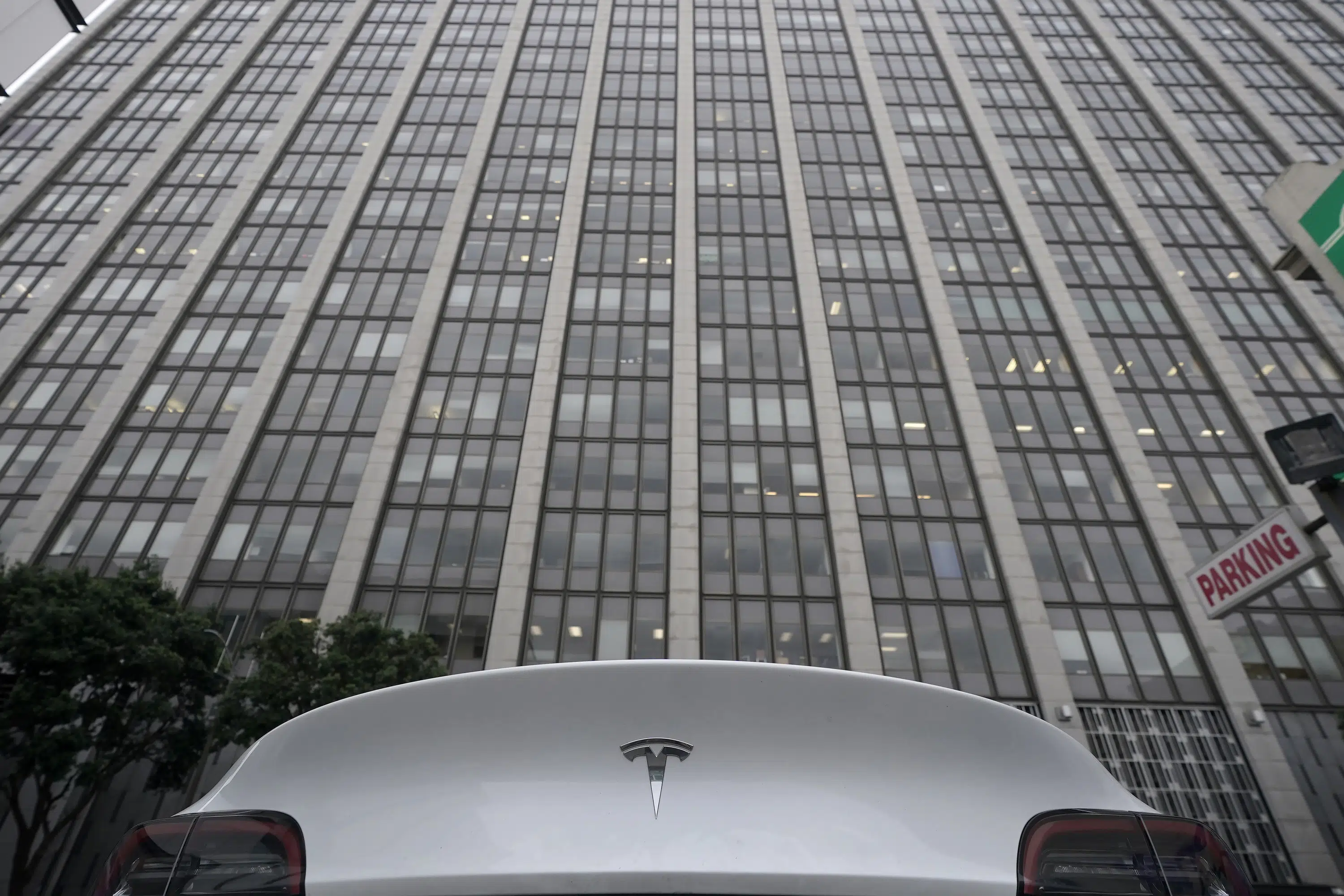 SAN FRANCISCO (AP) – Elon Musk was portrayed on Wednesday as either a liar who callously endangered the savings of "ordinary people" or a well-meaning visionary as attorneys made opening statements in a trial focused on a Tesla buyout. that never happened.
Lawyers from opposing sides drew the starkly different portraits of Musk for a nine-person jury hearing the three-week trial. The case centers on two tweets from August 2018 that the billionaire posted on Twitter, which he now owns.
The tweets indicated that Musk secured the funding to take Tesla private at a time when the automaker's stock was falling amid production problems.
The prospect of a $72 billion acquisition fueled a rebound in the company's share price, which ended abruptly a week later after it became clear that it didn't have the funding to close the deal after all. Tesla shareholders then sued him, saying that Tesla's stock would not have fluctuated so much in value had he not come up with the idea of ​​buying the company for $420 a share.
Nicholas Porritt, a lawyer representing Glen Littleton and other Tesla shareholders in the class-action case, promptly vilified Musk when addressing jurors.
"Why are we here?" Porritt asked. "We are here because Elon Musk, chairman and chief executive of Tesla, lied. His lies have caused ordinary people like Glen Littleton to lose millions and millions of dollars." He also claimed that Musk's tweet also hurt pension funds and other organizations that owned Tesla stock at the time.
Musk's attorney, Alex Spiro, countered that the surge in Tesla's stock following the tweet primarily reflected investors' belief in Musk's ability to accomplish impressive feats, including building the world's largest electric assembly plant while also running SpaceX. , rocket manufacturer.
"Sir. Musk tries to do things that have never been done before. Everyone knows that," Spiro told the jury.
Spiro added that Musk was in advanced talks with representatives of the Saudi Arabian Public Investment Fund to take Tesla private.
"He didn't plan on tweeting that," Spiro said of Musk's comment. August 7, 2018, statement at the center of the trial. "It was a split-second decision" with the aim of being as transparent as possible about discussions with the Saudi fund about a potential deal.
After saying "funding secured" for the purchase, Musk followed with another tweet that suggested a deal was imminent.
Littleton, a 71-year-old investor from Kansas City, Missouri, was the first witness called to the stand. He said Musk's claim about the funding alarmed him because he bought Tesla investments designed to reward him for his belief that the automaker's stock would eventually be worth much more than the $420.
He said he sold most of his holdings to cut his losses, but still saw the value of his Tesla portfolio plummet by 75%.
"The damage was done," lamented Littleton. "I was in shock."
Littleton's frustration mounted in October 2018 when he criticized Tesla for delays in delivering vehicles to some of his nieces and nephews. This led to him becoming a top investor in the process.
"I still believe in Tesla to this day. I do," Littleton said.
During cross-examination, a lawyer for Tesla's board of directors repeatedly questioned whether Littleton had legitimate reasons to believe a takeover was inevitable, but the investor stood firm, even appearing confused at times.
"'Secured funding' was the only thing that mattered to me," Littleton testified. "That was such a defining statement."
Musk's 2018 tweets attracted the attention of securities regulators, who concluded that they were inappropriate and that he was lying. in a settlementthey forced him to pay $40 million and demanded that he step down as chairman of Tesla's board.
US District Judge Edward Chen, who is presiding over the trial, ruled that attorneys for the shareholders cannot mention that agreement in the case.
But Chen already decided that Musk's tweet was fake, a finding that can be alluded to during the trial without specifically mentioning the determination made by the judge. Pollitt seized the opportunity during his opening statement, informing jurors that they should assume Musk's tweet was false, as the judge allowed. Spiro shook his head as he listened.
The outcome of the trial could depend on the jury's interpretation of Musk's motive for the tweets. And Musk will get his chance to present his case to the jury.
After the trial was adjourned on Wednesday, Porritt told the Associated Press that he hopes to call Musk to the stand when proceedings resume on Friday, following the testimony of two other witnesses. If the allotted time runs out on Friday, Musk will likely testify on Monday, Porritt said.
Musk's Twitter Leadership – Where He Destroyed the Team and alienated users and advertisers — has proved unpopular with Tesla's current shareholders, who are concerned that he is devoting less time to the automaker at a time of intensifying competition.
Those concerns contributed to a 65% decline in Tesla stock last year, which wiped out more than $700 billion in shareholder wealth – far more than the $14 billion swing that occurred between high and low share prices. company shares from August 7th to 17th. , 2018, period covered by the action.
Tesla shares have split twice since then, making the $420 price quoted in his 2018 tweet worth $28 on an adjusted basis now. Shares closed Wednesday at $128.78, below the company's November 2021 stock split-adjusted peak of $414.50.
After Musk abandoned the idea of ​​​​buying Tesla, the company overcame a production problem, resulting in a rapid increase in car sales that sent its stock skyrocketing and made Musk the richest person in the world until he bought Twitter. . Musk fell from No. 1 on the riches list after a stock market backlash over his handling of Twitter.
.