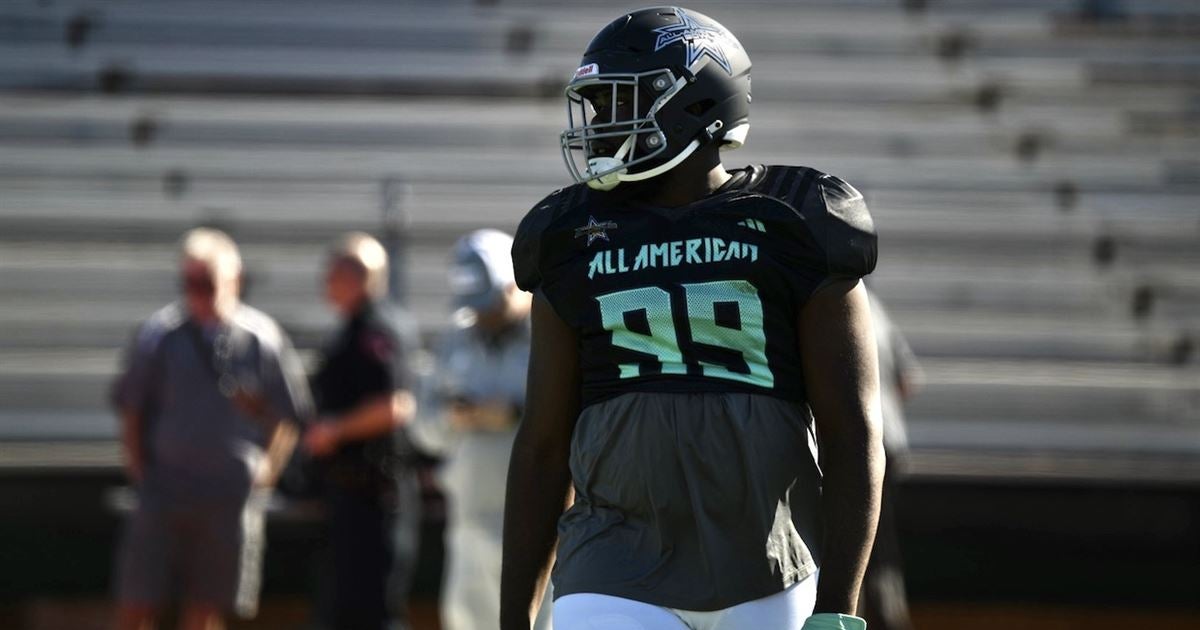 SAN ANTONIO – 247Sports defeats the best players on the East team during Wednesday's practice, a two-session event that saw many facilities and special teams work in the morning before a lively afternoon joint practice against West at the Alamodome. A team of national recruiting and scouting analysts at 247Sports provided live coverage and the following analysis of Wednesday's East Team's best players.
ALPHA DOG: Jordan HallDL, Jacksonville (Fla.) Westside, Georgia signatory
The 6-foot-3, 317-pound measured off with one of the best arm-length figures (35 1/2) during Monday's check-in and put that physical superiority to good use two days in a row. Hall dominated the 1-on-1, displaying dominant bull-rush power that eradicated even the most leverage-oriented, heavily anchored inside linemen in the event. Hall's physical characteristics and functional athleticism make him an elite D-line prospect with early-round NFL potential.
NEXT FIVE DEFENSES
— Keon KeeleyEDGE, Tampa (Fla.) Berkeley Prep, Alabama signatory: The day after receiving top honors, Keeley was there in the middle of the discussion again. He wins with athleticism, strength, technique, you name it. Keeley was a 1-on-1 threat during Wednesday afternoon's joint practice, as well as during team action.
— Caleb Downs, S, Hoschton (Ga.) Mill Creek, Alabama Signer: Hyper-aware with keen attention, Downs plays at the back of defense like an air traffic controller. He was making subtle pre-snap adjustments to his DB teammates' alignments during morning practice, then running step-by-step at times with receivers in the afternoon. He is perhaps the best pure football player in the class of 2023 and has an NFL pedigree that probably helps him get a feel for the game.
— Makari Vickers, S, Quincy (Fla.) Robert F. Munroe School, Oklahoma Signatory: Vickers looks like the type of defensive fullback that can move around in the secondary, based on what we've seen this week. He was playing on the outside with the receivers like a real corner at times on Wednesday and holding his own. He is a sturdy, well-built defender who can run and attack. Oklahoma got a pretty good one on Vickers.
— Whit Weeks, LB, Watkinsville (Ga.) Oconee County, Signatory to LSU: Weeks played well in space for the second day in a row. He resembles a modern off-ball linebacker in his playing style and functional athleticism, which not only allows him to patrol a wide range of running game chases, but competently track the field if asked to match a back or tight end.
— Kayin Lee, CB, Ellenwood (Ga.) Cedar Grove, Auburn Signer: two consecutive days Lee repeatedly caught our attention. He is a physical cover man who is quite comfortable blending in at the line of scrimmage with opposing receivers. He was disruptive at the catch point and got his paws on a few pitches.
FIVE MAIN OFFENSES
— Dante Moore, QB, Detroit King, UCLA Signer: Moore broke away from the rest of the halfback field on Wednesday with timing, accuracy, ball placement and speed. He punctuated his performance with a late-afternoon touchdown throw to Brandon Innis, which saw Moore roll to the right and launch a perfect ball towards the back pylon for an easy Inniss catch as the elite fullback broke away from a defender. . Moore got the ball out quickly, took good shots on several levels and appeared to be in charge. It lived up to the hype at Wednesday's practice.
— Brandon Inniss, WR, Plantation (Fla.) American Heritage, Ohio State Signatory: Inniss speeds up after catches as fast as any receiver in the first two days of practice. Inniss plays with a bully mentality and picks up almost anything in his vicinity. He is an exceptionally tall player who also offers long-term potential.
— Samson Okunlola, OT, Brockton (Mass.) Thayer Academy, Miami Signer: Similar to the Kadyn Proctor of the West, Okunlola looks like a potential ready-to-play option as soon as he hits campus. He's a hard-hitting point-of-attack forward with the ability to sit and drop the anvil to pass rocks past rushers in 1-on-1 replays. His massive base and long arms make him a high-roof pass guard.
— Aidan Chiles, QB, Downey (California), Oregon State Signer: Chiles recovered from an early INT – a diving effort by the Notre Dame sprinter Micah Bell — Wednesday afternoon to assemble a fantastic performance. The big passer looked more and more natural as the afternoon wore on, putting the ball in spots that gave only his receiver a chance to catch it. He ended the day with a perfectly executed red zone read option run for an easy run to the end zone. Your development advantage is sky high.
— Jalen Brown, WR, Miami Gulliver Prep, LSU Signer: Brown has long been known for his top speed, which stems from the excellent track context. But Brown showed some positional-specific nuances on Tuesday, when he hit some of the best deep balls of the day while hitting a short target down an alley for a thick play. Brown recovered from a slump or two to put together a big day.
MORE PRACTICE NOTES
— Jaedn Skeete, WR, West Roxbury (Mass.) Catholic Memorial, Boston College Signatory: In hot competition for the best offensive players, Skeete definitely cemented a position among the most consistent players during Wednesday's afternoon joint session. He caught pass after pass as a reliable target for Chiles and Moore, displaying hand-catching acumen, sudden breaks on turnovers, and field juice after the catch.
— Jonas Duclona, ​​CB, Naples (Fla.), Wisconsin signer: Duclona had one of the best breakaways of the afternoon on a 40+ yard deep ball to Cordale Russell that ended with Duclona shutting down the receiving spot and dislodging the pitch in the end zone. Duclona played the part earlier this week and we look forward to seeing more of him for the rest of the event.
— Monroe Freeling, OT, Mount Pleasant (SC) Oceanside Collegiate Academy, Georgia Signatory: The 6-foot-6+, 294-pound started the week with All-Lobby Team honors. He backed that Wednesday up with wins in most of his 1-on-1 replays and consistency in team action. He will arrive in Athens before the curve as a pass protector with immense frame potential to become a differential in the running game.
— Carnell Tate, WR, Bradenton (Fla.) IMG Academy, Ohio State Signatory: One of the country's most natural pass catchers, Tate looked the part again on Wednesday. His ability to concentrate on field targets and control his body along the border and in traffic sets him apart as a true elite receiver.
— DJ Chester, OT, McDonough (Ga.) Eagles Landing Christian, LSU signer: Tons of credit needs to go to Chester, who is playing center for the East this week. We went into the event thinking that Chester could end up with an IOL designation; his arm's length can live on the outside and he played plenty of tackle, but the 335-pound man looked at home on the inside this week as one of the most consistent O-line players among a strong group.
— Tyler Scott, CB, Mableton (Ga.) Pebblebrook, uncommitted: Approaching 6-foot-1 and 195 pounds, Scott uses his size to crowd in and frustrate receivers. But he's more than just a great corner. Scott showed encouraging hip fluidity with agility and short area athleticism to stay sticky.
— J'ven Williams, OT, Reading (Pa.) Wyomissing, Penn State signatory: Williams played a lot at guard this week and looked comfortable, which is no surprise given the heavy schedule he's used to. But make no mistake, his length (34-inch arms) and frame potential combine with the movement he exhibits, regardless of alignment, to create an elite attacking perspective.
— Malik Hartford, S, West Chester (Ohio) Lakota West, State of Ohio Signatory: likewise, another day, another strong performance from Hartford, whose long-lever build and functional athleticism create one of the most impressive territory-devouring back-end defenders present.
— Olsen Patt Henry, TE, Naples (Fla.) First Baptist Academy, Clemson signatory: A true flex by the looks of his physical tools and athletic ability, Henry has put together a sneaky good few days of practice. He plays as an outside receiver with staffing flexibility to line up in a myriad of scenarios.
— Blair Angulo, Brandon Huffman, Cooper Petagna and Steve Wiltfong of 247Sports contributed to this report.