Willey said he and the Willock family met with the Athens-Clarke Police Department and the Clarke County Sheriff's Office Thursday morning to review their progress and receive an update on the investigation. He urged people with "pertinent" information to contact investigative authorities or his law firm, Go Big Injury Lawyers, adding that they will release the information when it is "verified, available and appropriate."
"We are here today to ask that you let these two families continue to suffer and suffer in peace," Willey said.
Devin Willock's mother, Sharlene Willock, told 11Alive on Thursday that she has hired a lawyer but is not planning any legal action at this time.
Meanwhile, the university was quiet about the morning accident, in which a UGA athletics department recruiting analyst, Chandler LeCroy, was driving the vehicle at 2:45 am Sunday morning when it veered off the road and hit a series of poles and trees. . LeCroy, 24, was also killed in the crash.
Devin Willock of New Milford, New Jersey was a redshirt sophomore offensive lineman for the Bulldogs. He was in the backseat of the rented 2021 Ford Expedition. Teammate Warren McClendon and another member of Georgia's football recruiting department were also in the vehicle. The family is in Gainesville as it prepares for the funeral.
Tory Bowles, a back-seat passenger who also works in recruiting, is still being treated for "serious injuries," according to police. McClendon suffered minor injuries and was treated and released from Piedmont Athens Regional Hospital on Sunday.
HOW THE ATHENS CRASH DEVELOPED
According to the preliminary accident report, the Ford Expedition driven by Chandler Louise LeCroy was driving south on Barnett Shoals Road in the early hours of Sunday when it failed to make a left turn into the road and jumped over the curb. 1
The front passenger side of the vehicle hit two poles two & 3, cutting them in half. The vehicle hit a tree 4 with the rear side of the passenger, which caused it to spin clockwise before hitting another tree 5 with the driver's front side.
The force of these hits caused the vehicle to spin counterclockwise before hitting a parked vehicle. 6 and the front door of a corner apartment. 7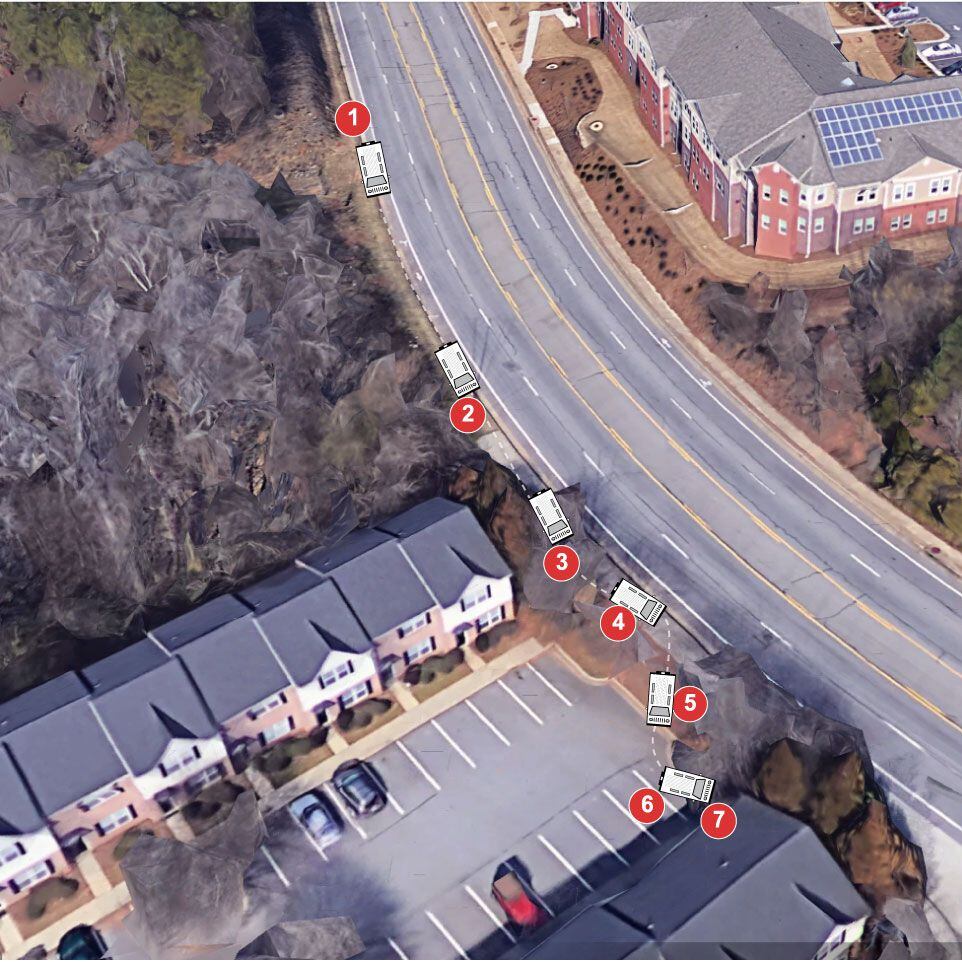 SOURCE: Crash report, Google Earth
CREDIT: Pete Corson, ArLuther Lee and Charles Minshew / The Atlanta Journal-Constitution
The AJC sent a list of questions about the accident to Georgia Athletic Director Josh Brooks on Wednesday. UGA responded with the following statement:
"Our primary focus continues to be providing comfort and support to the families and friends of Devin, Chandler and the other two injured, as well as everyone affected by this tragedy. Out of respect for the individuals and their families, we will not be making further comment at this time regarding the accident or the ongoing investigation."
The car LeCroy was driving was rented from Enterprise Rent-A-Car for the purpose of transporting recruits around campus, according to a person with knowledge of Georgia recruiting. It remains to be seen if LeCroy was authorized to drive the vehicle at that time of night or if the trip they were taking was approved by someone at UGA.
"I'm focusing on my son, focusing on my heart," said Dave Willock. "We're planning[Devin's]farewell and everything. I'm doing it all. This is what I'm dealing with. I'm not dealing with any of that.
The confusion over any possible legal action by the family began late Wednesday afternoon, when Willey's company said Devin Willock's family would be at a press conference at 2pm on Thursday to discuss the accident and actions. legal to be taken. When contacted by the AJC about the apparent discrepancy in the family's attendance, Brian Stellwag, who handles media relations for the firm, said the Willock family's attorney would attend a press conference, which was delayed by an hour. When Willey finally appeared, he refused to answer any questions following his statements and did not discuss any legal action.
Asked Thursday morning about the press conference, Dave Willock said he had no plans to attend.
"I'm here; my son passed away; I'm emotional, dealing with the heartache," he said. "I don't know about that. I haven't spoken to anyone yet."
For the Willocks, the accident was a terrible repeat of what happened to another son 13 years ago. Jonathan Wheatley, Devin's half-brother, was a passenger in a car heading back to New Jersey after a night out in New York City with three friends on Sept. 5, 2009, according to a story written by NorthJersey.com. The car they were in was hit by another vehicle. Wheatley was ejected from the vehicle and died at the scene. He was also 20 years old.
Police said Devin Willock died at the scene on Sunday after being ejected from the vehicle.
"Same way, same way, all the same," said Dave Willock, 58, who immigrated to the United States from Antigua 39 years ago. "At dawn, accident, four people in the car, female driver, everything the same, except for the type of car. Same age, everything. They were very similar, he also played football. Everything."
Neighbors interviewed in the Barnett Shoals Road urban community in Athens told the AJC they heard a loud bang and a flash of light as the streetlights cracked and sparked. Shortly after, they said they heard someone yelling to call 911.
"I heard screams and the walls and ceilings shook," said Jordan Williams, who said he saw the scene from his window. "I honestly thought it was a tornado at first."
Clarke County coroner Sonny Wilson said routine toxicology tests were done on LeCroy. This is protocol when a driver is killed in an accident, Wilson said. These toxicological findings are expected to take several weeks to complete.
Autopsies were not performed on Willock or LeCroy, Wilson said.
Asked how they are processing the tragedies, Dave Willock said: "It's tough, you know. I cry a lot. It makes me think, 'Why? Why does it happen?' I just don't know. You just take it one day at a time and it starts to fade."
The Willocks have another child. david jr. is 23 years old.
Dave Willock said a funeral will be held for his son at the Chapel at the University of Georgia on Saturday at 11:30 am. An official announcement has not been made.