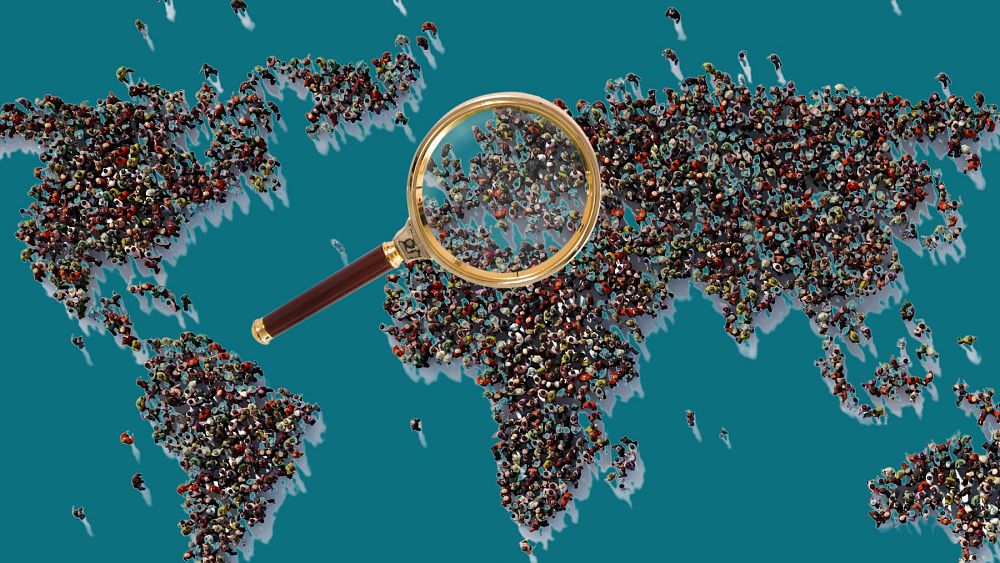 For the first time in six decades, China's population shrank last year, with deaths outnumbering births.
The country had 1.41175 billion inhabitants at the end of 2022, according to data released by the National Statistics Department, a drop of 850 thousand.
Not only is China's birth rate falling, but its population is also ageing, and experts warn that this will result in a grim demographic cocktail that will reduce the country's workforce, drain its pension system and could have serious economic repercussions very soon. beyond its borders.
But while China's demographic crisis steals the headlines, it's hard to ignore the fact that the European Union's population is also aging and has been shrinking for two years.
Europe's population declines after decades of growth
The EU's population grew from 354.5 million in 1960 to 446.8 million in 2022, an increase of 26%. That's 92.3 million additional people, more than the population of Germany, the largest member of the bloc, with 83 million people.
However, the rate of population growth has slowed in recent decades, and over the past two years, the total population of the EU has declined, though not in all member states.
In total, 10 countries recorded a decrease in population between 2021 and 2022, with the largest decrease recorded in Italy (-253,100 inhabitants), Poland (-185,800), Romania (-163,600), Croatia (-157,300), Bulgaria (-77,600 ), Greece (-74,800), Hungary (-41,800), Slovakia (-25,100), Latvia (-17,500) and Slovenia (-1,800).
Increases were observed in 17 countries, the top five being France (+185,900 inhabitants), the Netherlands (+115,300), Germany (+82,100), Belgium (+76,400) and Sweden (+73,000).
What is Europe's fertility rate?
China's fertility rate has dropped to 1.15 births per woman in 2021, far below the replacement level of around 2.1 live births per woman needed to ensure a largely stable population in the absence of migration.
It is worth noting that no EU country has a fertility rate above this threshold.
The average fertility rate in the EU, from 1.50 live births per woman in 2020, fell from 1.53 in 2019 and 1.57 in 2016.
The lowest total fertility rates in 2020 were recorded in Malta (1.13), Spain (1.19) and Italy (1.24).
France came first with an average fertility rate of 1.83, followed by Romania (1.80), Czech Republic (1.71) and Denmark (1.68).
However, some EU countries with fertility rates below replacement level still have a growing population.
France, for example, has seen its population grow over the past 20 years. The country's statistics office, INSEE, attributes this to several factors, mainly migratory movements and increased life expectancy.
Births, deaths and migrations
The natural variation of population in the EU has been negative since 2012 – meaning that, for more than a decade, deaths have outnumbered births.
However, the EU population only stopped growing in 2020. How is this possible?
Until the 1990s, natural population change (with more births than deaths) accounted for the vast majority of overall change in the total population.
From there, the role of net migration took on an important role in changing the population of the EU, as births and deaths became broadly balanced, explains Eurostat. And from 2011, EU population growth was attributed to net migration and statistical adjustments.
However, in 2020 and 2021, net migration no longer compensated for the negative natural change in population in the EU and, as a result, the total EU population declined.
Eurostat attributed this combination of factors to the impact of the COVID-19 pandemic.
China x EU: the role of migration
The EU and China have different migration dynamics. The chart below compares the net migration rate – the difference between the number of immigrants (entering a country) and the number of emigrants (exiting) over the course of the year.
When the number of immigrants exceeds the number of emigrants, there is a positive migration balance.
In 1960, net migration rates from China and the EU were roughly comparable and presented a similar picture: at the time, more people were emigrating than entering.
However, World Bank figures show a dramatically different trajectory in the following decades. In 2021, the net migration rate from the EU was +910,755 people, while in China it was -200,194 people.
Will the EU population resume its growth?
The last Eurostat population projections at national level were made in April 2020 and covered the period from 2020 to 2100.
According to these estimates, the EU population is expected to increase to a peak of 449.3 million around 2026 and then gradually decline to 416.1 million by 2100.
However, 11 EU member states are expected to see their populations grow, with net migration being the main contributor. These are Sweden, France, Ireland, Netherlands, Denmark, Belgium, Austria, Cyprus, Malta, Germany and Luxembourg.
EU population is living longer and aging
The share of the population aged 65 and over is increasing in all EU member states and is, in fact, well ahead of China, where it is around 13%.
The countries with the highest percentage of population aged 65 and over are Italy (22.5 percent), followed by Finland (22.7 percent), Greece (22.5 percent), Portugal (22.4 percent ) and Germany (22 percent ).
In the last decade, the countries that recorded the greatest increase in the weight of the population aged 65 and over were Finland, with an increase of 5.2 percentage points (pp), followed by Poland (5.1 pp) and the Czech Republic (4.6 pp). There was an increase of 3 pp for the EU as a whole.
According to Eurostat forecasts, people aged 65 and over will represent 31.3% of the EU population by 2100, compared to 20.8% in 2021.
The proportion of people aged 80 and over in the EU population is also expected to more than double between 2021 and 2100, from 6.0% to 14.6%.
The growth of the elderly population is attributed to increased longevity.
In the EU, life expectancy at birth has increased rapidly over the past century, from 69 years in 1960 to 80.1 years in 2021.
The EU attributes this to a number of factors, including a reduction in child mortality, rising living standards, improved lifestyles, better education, and advances in health and medicine.
However, following the COVID-19 pandemic, the indicator dropped from 81.3 in 2019 to 80.4 years in 2020 and 80.1 in 2021. Only four EU Member States did not register a decrease in the average life expectancy. life: Denmark, Estonia, Finland and Cyprus.
Which EU countries have the youngest populations?
The working-age population, defined as those aged between 15 and 64, represents over 64% of the EU population, according to 2021 data.
More than 10 percent of the EU's population is aged between 15 and 24, more than 32 percent are aged between 25 and 49, and nearly 21 percent are aged between 50 and 64.
In 2021, the average age of the EU population was 44.1 years, against 41.6 years in 2011.
This average age is expected to rise further to 48.8 by 2100. This means that half of the EU population will be over 48.8 years old, while the other half will be younger.
In 2021, Cyprus had the lowest average age, 38, and Italy the highest, 47.6.
.