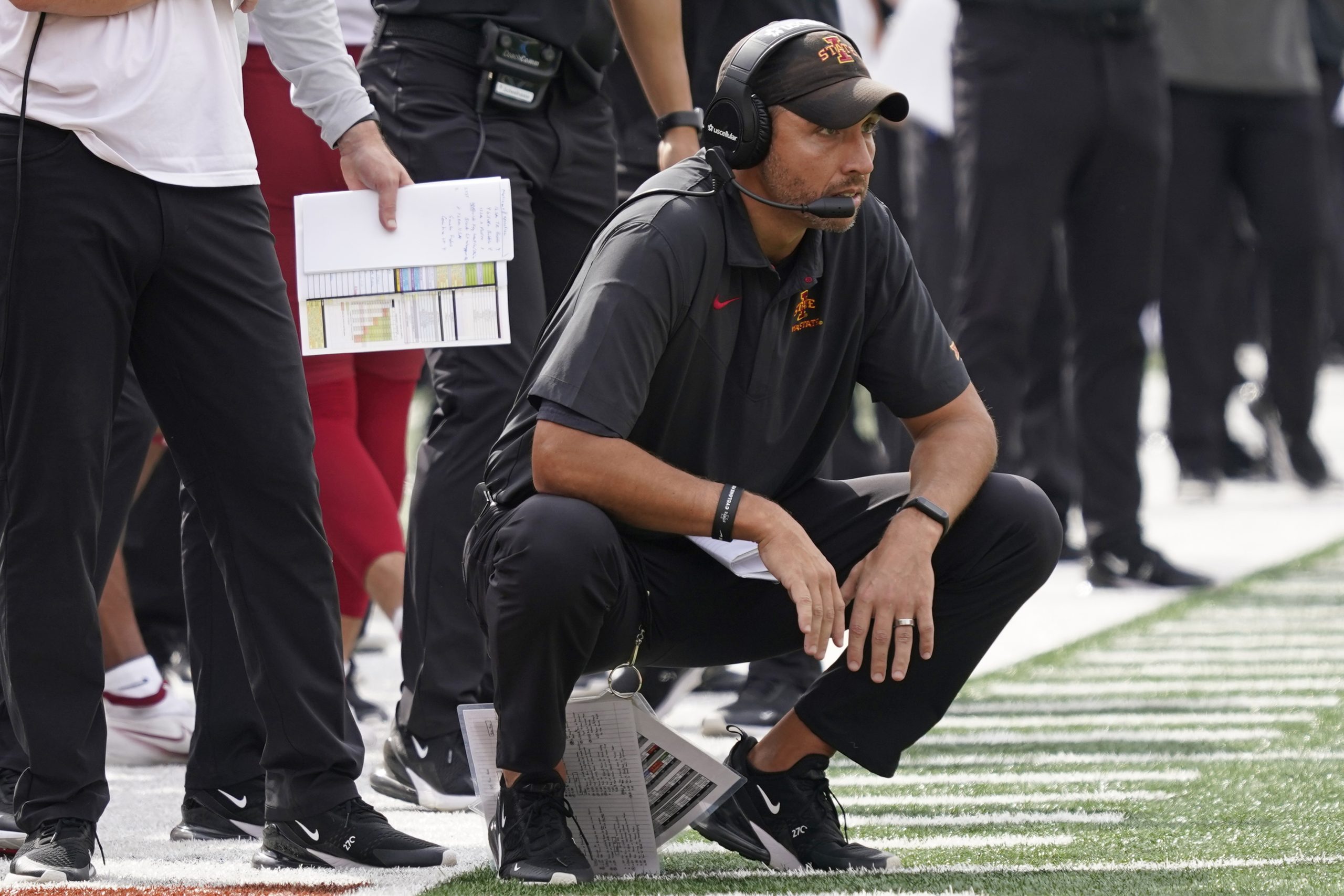 The following is a press release from Iowa State Athletic Communications.
AMES, Iowa – Iowa State coach Matt Campbell announced the hiring of Jordan Langs as running backs coach/special teams coordinator and Hank Poteat as cornerbacks coach.
Langs' hiring is pending the completion of background checks.
Jordan Langs
Langs, who was twice named Mid-States Football Association (MSFA) Coach of the Year while serving as head coach at Indiana Wesleyan for the past six years, joins the Cyclone coaching staff as running back coach and special teams coordinator .
"Jordan is an experienced leader of men who has had success as a head coach," said Campbell. "His teams followed his lead and were successful both on the field and in the classroom. He developed players and built a program from the ground up. We are excited to add someone with his experience to our coaching staff."
At Indiana Wesleyan, Langs was tasked with starting the program in 2016, and under his watch, he grew into an NAIA powerhouse that went 11-2 in 2022, ranked #5 in the final regular season coaches' poll, and advanced to the semifinals of the NAIA FCS. . The Wildcats had 21 players earn all-conference recognition in 2022, while wide receiver Jacquez Carter earned AFCA First Team All-America honors and was the MSFA Offensive Player of the Year.
On special teams, Indiana Wesleyan was seventh nationally with a 15.5 punt return average last season.
While leading the Wildcats, Langs posted a 33-15 overall record (. 688) while going 16-9 in MSFA Mideast play. He was selected to the American Football Coaches Association (AFCA) 35 under 35 Coaches Leadership Institute in 2019 and was AFCA NAIA Region 2 Coach of the Year this season.
Langs has coached eight Indiana Wesleyan players to NAIA All-America honors and 64 times his team has had players receive MSFA All-Conference honors. Additionally, Langs' teams have had two MSFA Midwest Offensive Player of the Year winners. His team has also had great success in the classroom with 89 MSFA All-Academic honorees and one student-athlete being named a College Sports Communicators Academic All-American.
Prior to Indiana Wesleyan, Langs spent five seasons (2012-16) coaching at his alma mater, NCAA Division III Wheaton (Ill.). He was the defensive coordinator in 2014 and 2015 after serving as the defensive backs coach in his first two seasons with the team.
In his four years at Wheaton, the Thunder posted a 38-6 record. They won back-to-back College Conference of Illinois and Wisconsin (CCIW) titles and went 22-2 with Langs serving as defensive coordinator. In those two seasons, Wheaton was 10-0 in both regular seasons and advanced to the second round of the NCAA Division III playoffs.
Langs, a native of Climax, Michigan, was a four-card winner on defense and linebacker for Wheaton. He was twice named to the D3Football.com Team of the Week.
He earned his bachelor's degree in history/social sciences in 2012.
Hank Poteat
Poteat is a former Super Bowl winner and 10-year NFL veteran who spent the previous two seasons in Wisconsin coaching cornerbacks after a successful run coaching in the Mid-American Conference.
"Hank has had success as a player, both at the collegiate and professional level, and that has led to his success as a coach," said Campbell. "The players who trained with him also had great success. I look forward to seeing him lead the youth in our corner room."
In 2022, Poteat's defensive unit contributed in Wisconsin by finishing 10th.th nationally in total defense (303.5 yards per game) and seventh with 17 interceptions.
In his first year at Wisconsin, the Badger's two full-time starters at cornerback, Faion Hicks and Caesar Dancy-Williams, earned All-Big Ten honors. Hicks was selected in the 2022 NFL Draft by the Denver Broncos, while Dancy-Williams signed a free agent deal with the Los Angeles Rams.
Poteat arrived in Wisconsin after serving as Toledo's cornerbacks coach from 2017 to 2020, where he helped the Rockets win the MAC title and rank 22nd nationally in passing defense efficiency in his first season.
The Harrisburg, Pennsylvania native coached many successful players during his time at Toledo, including Samuel Womack – who tied for fourth nationally with 15 pass breakups as a junior in 2019 and was named first-team All-MAC by Pro Football Focus in 2020 – and Ka'dar Hollman, who started his career as a substitute and was drafted by the Green Bay Packers in 2019.
He also helped produce three All-MAC cornerbacks during his two seasons at Kent State in Najee Murray, Jerrell Foster and Demetrius Monday while coaching the 2015-16 Golden Flashes.
Poteat was a graduate assistant at his alma mater in Pittsburgh in 2013-14 and cornerbacks coach at Kentucky Christian in 2011-12.
Before coaching, Poteat was an outstanding cornerback and kick returner at Pittsburgh from 1996 to 1999, earning first-team All-Big East honors as a junior and senior. He finished his career holding school records for kick return yards in a season (764 in 1998) and a career (2010).
Poteat was a third-round pick by the Pittsburgh Steelers in the 2000 NFL Draft. He played for five teams in 10 seasons, earning a Super Bowl ring as a member of the 2004 New England Patriots.
He also played for Tampa Bay, New York Jets and Cleveland during his professional career.
Poteat graduated from Pittsburgh in 2011 with a BA in Social Science.