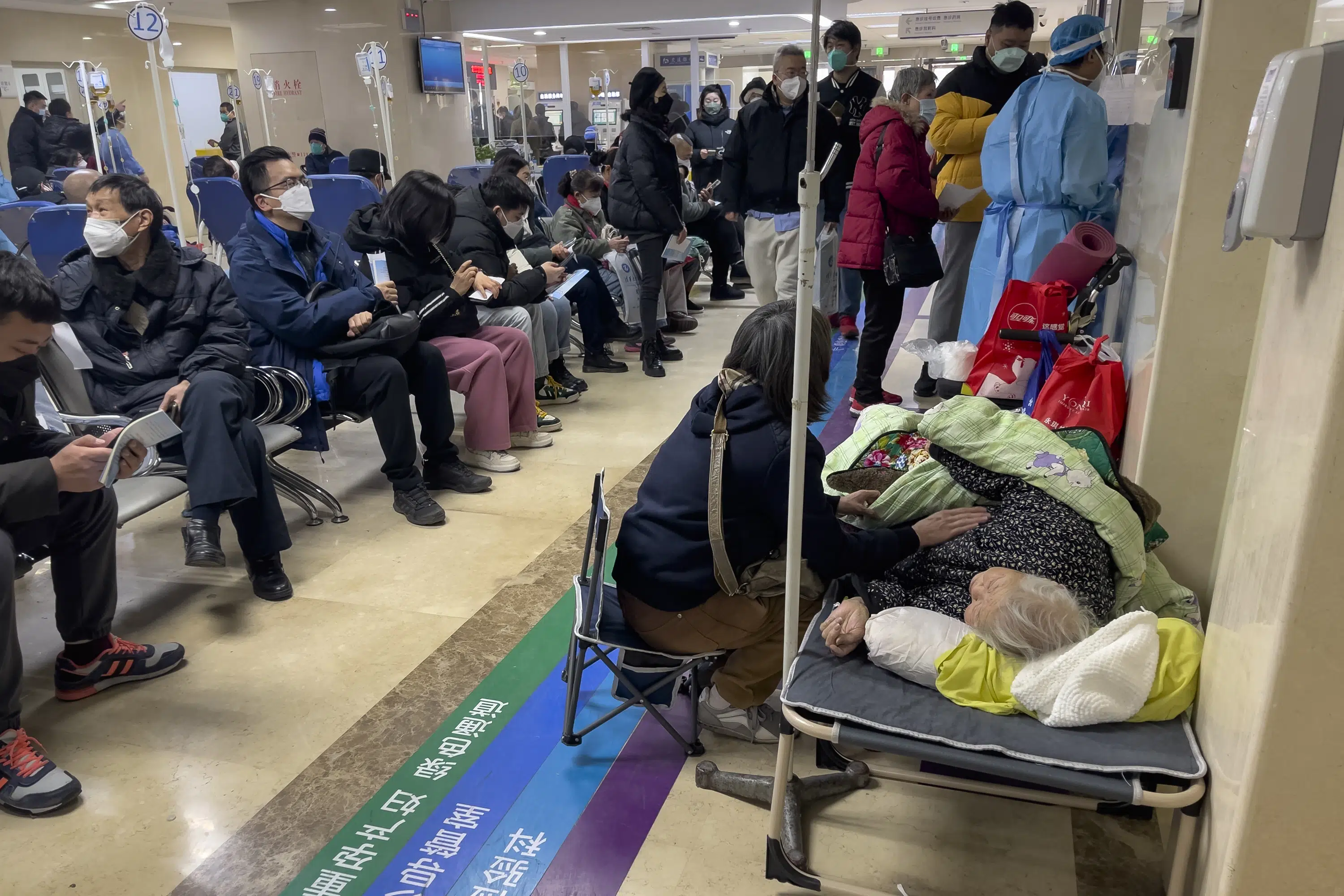 BEIJING (AP) – Patients, mostly elderly, are lying on stretchers in hallways and receiving oxygen while sitting in wheelchairs, as COVID-19 escalates in China's capital Beijing.
Chuiyangliu hospital in the east of the city was crowded with newly arrived patients on Thursday. By mid-morning, the beds were gone, even as ambulances continued to bring in those in need.
Pressured nurses and doctors rushed to obtain information and triage the most urgent cases.
The rise in seriously ill people needing hospital care follows China's abandonment of its toughest pandemic restrictions last month, after nearly three years of lockdowns, travel bans and school closures that have weighed heavily on the economy and sparked street protests. not seen since the late 1980s.
It also comes as the European Union on Wednesday it "strongly encouraged" its member states to mandate COVID-19 testing prior to departing passengers from China.
Last week, EU countries reacted with various restrictions on travelers from China, flouting an earlier commitment to act in unity.
Italy – where the pandemic took a heavy toll on Europe in early 2020 – was the first EU member to require coronavirus tests for airline passengers arriving from China, but France and Spain quickly followed through with their own measures. This followed the imposition by the United States of a requirement that all passengers from China present a negative test result obtained within 48 hours of departure.
China has warned of "countermeasures" if such policies were imposed across the bloc.
Still, the head of the World Health Organization, Tedros Adhanom Ghebreyesus, said on Wednesday that he was concerned about the lack of Chinese government outbreak data.
At a daily briefing on Thursday, Chinese Foreign Ministry spokesman Mao Ning said Beijing has consistently "shared information and data with the international community in an open and transparent manner".
"Currently, the COVID-19 situation in China is under control," Mao said. "Moreover, we look to the WHO secretariat to take a science-based, objective and impartial position to play a positive role in addressing the pandemic globally."
The terse language between China and the WHO stands in stark contrast to what critics in the US Congress and elsewhere have called the overly amicable relationship between the two as the UN organization sought to investigate the origins of the pandemic.
While the first cases were reported in the central Chinese city of Wuhan in late 2019, China has claimed the virus originated in the US or Europe and has been accused of withholding data that could help narrow the search for the cause. .
In dealing with the latest outbreak, China has sought to vaccinate more of its elderly population, but those efforts have been hampered by past scandals involving counterfeit drugs and past warnings about adverse reactions to vaccines among the elderly.
Vaccines developed domestically in China are also considered less effective than mRNA vaccines used elsewhere.
Meanwhile, local authorities in some areas are urging the public to avoid traveling during this month's Lunar New Year holiday, as the last formal restrictions on movement have been lifted.
"We recommend that everyone not return to their hometowns unless necessary during the peak of the outbreak," the Shaoyang county government in central China's Hunan province said in a notice dated Thursday. "Avoid visiting relatives and traveling between regions. Minimize travel."
Similar appeals were issued by Shouxian County in Anhui Province southeast of Beijing and the cities of Qingyang in Gansu Province in the northwest and Weifang in Shandong on the east coast.
The Weifang government notice said residents should celebrate the holiday with video and telephone gatherings.
"Avoid visiting relatives and friends to protect yourself and others," he said.
Despite these concerns, Hong Kong announced it will reopen its border with mainland China on Sunday and allow tens of thousands of people to cross from each side every day without being quarantined. It was unclear what restrictions people traveling to the mainland side would face.
The city's land and sea border crossings with the mainland have been virtually closed for nearly three years and the reopening is expected to provide a much-needed boost to Hong Kong's tourism and retail sectors.
___
Associated Press reporters Joe McDonald in Beijing and Kanis Leung in Hong Kong contributed to this report.
.