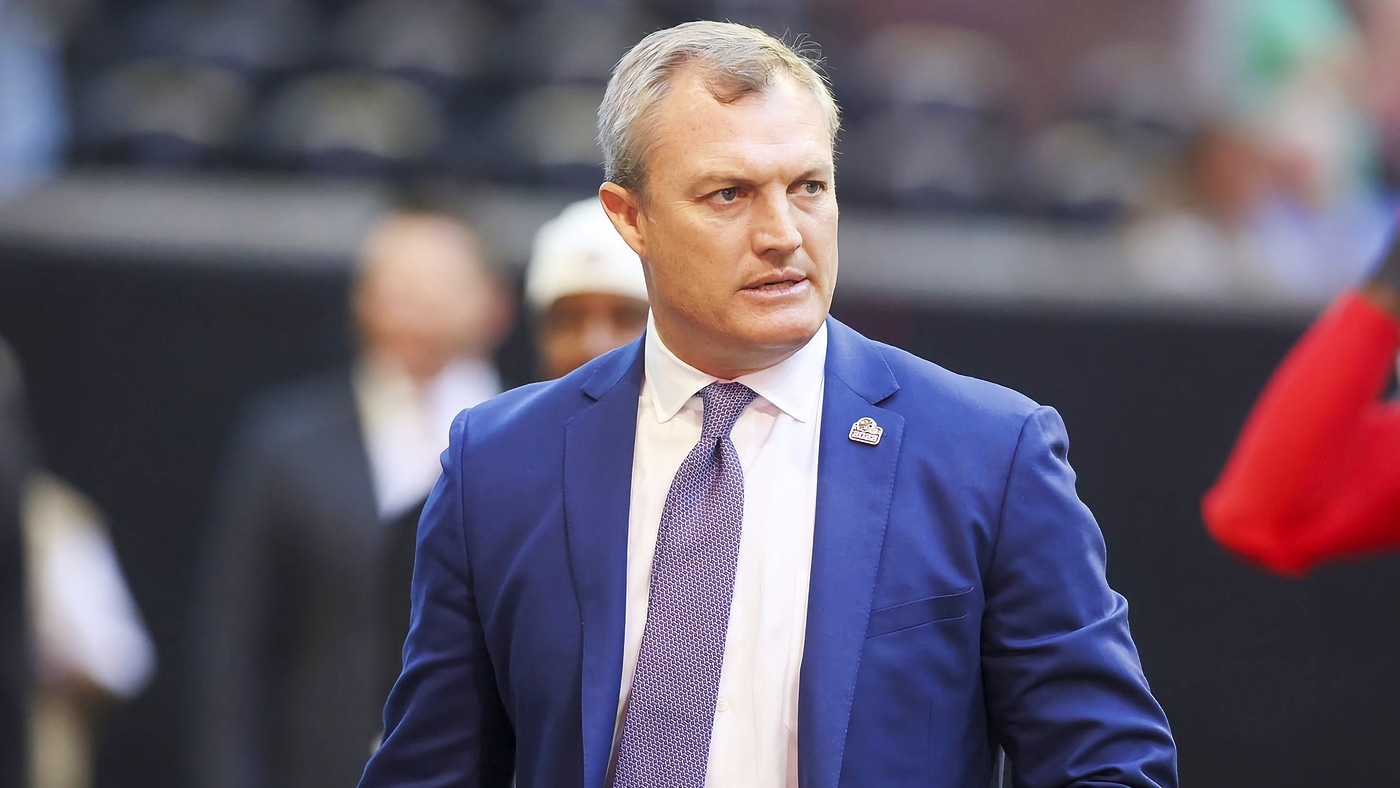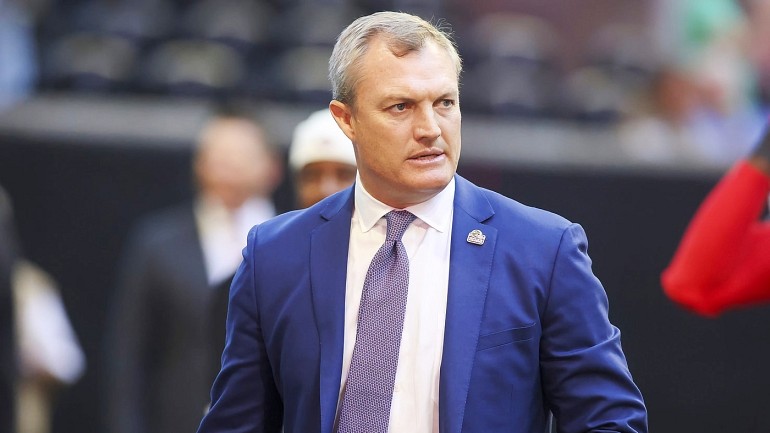 When news broke that San Francisco 49ers Assistant General Manager Adam Peters turned down interview requests from the Tennessee Titans and Arizona Cardinals, it sparked speculation about the future of General Manager John Lynch.
Does Peters see an opportunity to step into the role of general manager for the 49ers? Is Lynch leaving? Mind you, he flirted with Amazon last offseason (more accurate: Amazon flirted with him) about a potential return to the broadcast booth. The general manager chose to remain at San Francisco.
Concern for Lynch's future eventually trickled down to the general manager.
"I just had someone say, 'Hey man, is there something I should know?'" John Lynch told The Athletic's Tim Kawakami via a phone interview on Wednesday. "I said, 'What do you mean?' He said, 'I'm getting all these calls that, you know, people are inferring that you're leaving.' I was, like, 'NotI am fine.'"
On Thursday morning, Lynch confirmed that Peters had no intention of leaving the 49ers now.
"Adam made a decision," said Lynch on KNBR's Murph & Mac exhibition. "We had some discussions. He decided he is very happy here and that makes us happy. As a friend, there are only 32 of these jobs and so when opportunities arise, you encourage people to pursue that opportunity. But when people are happy, and their families are happy, and they want to be somewhere, we are happy too.
"I think we have a really good environment and we're focused on being successful now, but I think people see long-term success and want to be here."
Peters was expected to be a hot name in general manager polls. However, declining interviews could mean he plans to remain with San Francisco for the foreseeable future, possibly replacing Lynch whenever the general manager feels his job is done. Lynch, a family man, has previously stated that he doesn't see himself in the role forever, after all.
For now, though, it looks like the 49ers will hold off on Lynch and Peters.
"I think Adam just walked in and said, 'Look, I respect these two places, but I'm really happy here,'" Lynch told Kawakami. "I think that's a big thing. You know, Adam is from here (Cupertino) and he's a big part of what we've done. He's been important to me."
Nobody is perfect. Did you find an error in this article?
report.
I HEAR
facebook comments
More San Francisco 49ers news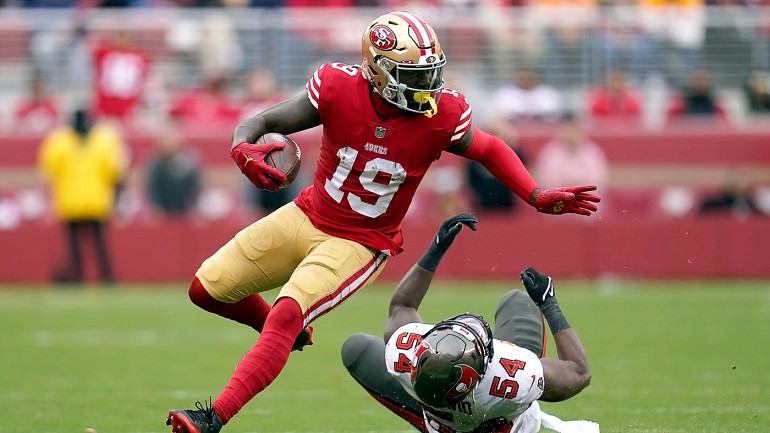 49ers' John Lynch expects Deebo Samuel and Elijah Mitchell to play Cardinals, provides updates on Dre Greenlaw and Christian McCaffrey
Wide receiver Deebo Samuel and running back Elijah Mitchell are returning to the football field in time for the San Francisco 49ers playoffs. We can see both players as early as this weekend's regular season finale against the Arizona Cardinals. Samuel and Mitchell looked good in practice this week and could be back this weekend. "Like Elijah, [Samuel has] practiced both days this week – both Wednesday and Thursday in our work week," Lynch said Friday morning on KNBR's Murph & Mac show. "He's doing well out there. We have to finish this week and make sure he responds well, but all indications are that Deebo is in a good place." Should he play? "Yes," Lynch replied.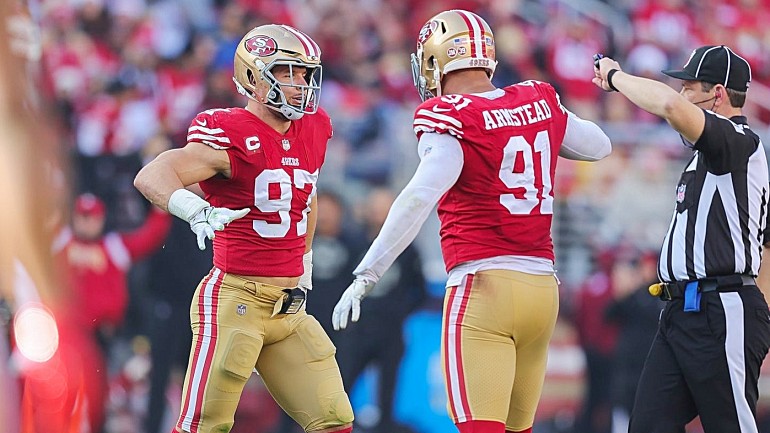 John Lynch: 49ers' "championship-level" defense unbroken after collapse against Raiders
Are you worried about the San Francisco 49ers defense giving up 500 total yards against the Las Vegas Raiders last Sunday? It was the first time the unit had yielded anything close to that number since October 23 against the Kansas City Chiefs. Between the two games, the 49ers defense played light football, allowing just 286 total yards and around 12 points per game. Was Week 17 just a bump in the road or a sign that something inside the 49ers defense might be broken? "Here's what I know about our defense: We have a championship-level defense," general manager John Lynch said Friday morning during KNBR's Murph & Mac show. "There's a reason why we've been the No. 1 defenseman in football all year. Now we're down to No. 2 and I think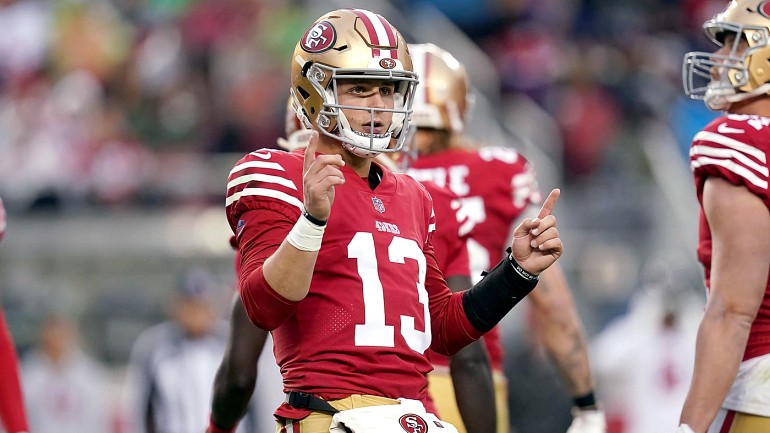 What was 49ers GM John Lynch's response to the Purdy-Montana comparison?
On Thursday morning, NFL analyst Greg Cosell joined KNBR's Murph & Mac, briefing hosts on a comment he heard from a former NFL coach about San Francisco 49ers rookie quarterback Brock Purdy. "I don't want you to fall out of your chair," Cosell said. "I had a former NFL coach – he will remain anonymous because I don't do this, but you would know who he is – told me that he thinks Brock Purdy reminds him of Joe Montana. … Do you think that's a big deal? compliment? That guy from Montana was really good." General Manager John Lynch joined KNBR late in the morning and was informed of the comparison. What are his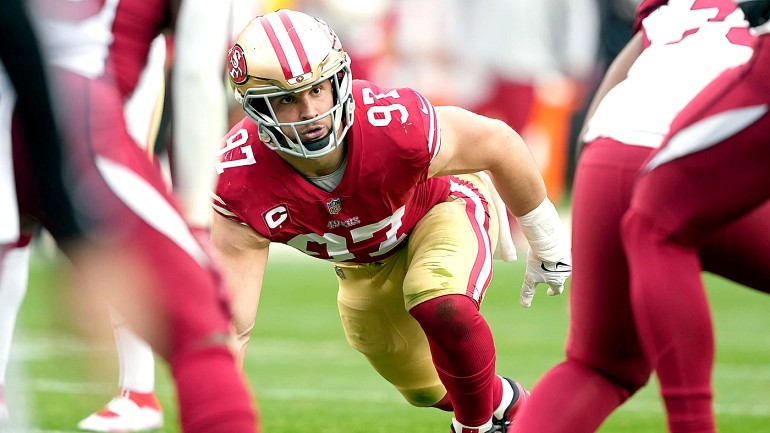 49ers notebook: Bosa, Niners "have a good idea" on how to beat the Seahawks; McCaffrey's trade sent a message; seattle improvement
The San Francisco 49ers are facing the Seattle Seahawks for the third time this season and only the second time in playoff history. The advantage of facing an opponent multiple times is that you know what to expect. The 49ers believe rematches often come down to which team performs better. San Francisco won 10 straight games to finish the season 13-4, holding the No. 2 seed in the NFC playoffs. The players have a lot of confidence going into this rematch against a well-known NFC West foe, but they know there are areas where they can improve. Is it challenging to beat the same team three times in one season? "I would say it's true just because every team is really good, and
.