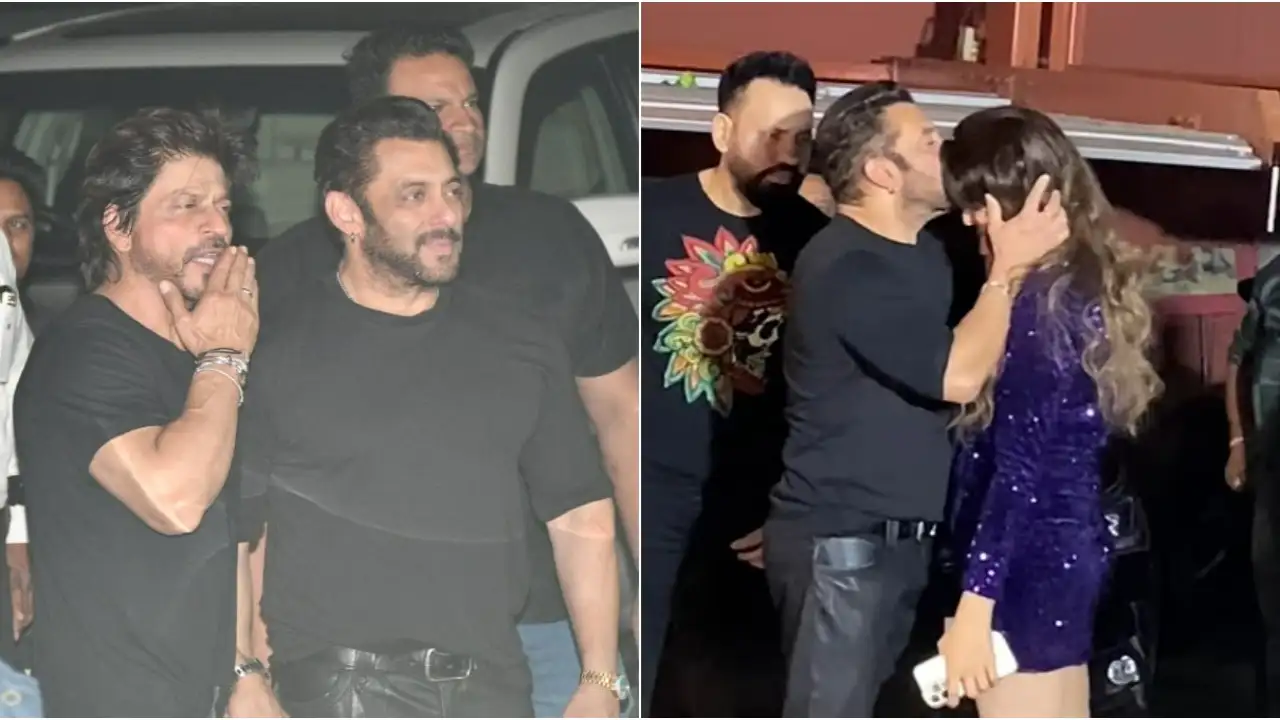 Star Salman Khan, who is one of the most loved actors in the world, is celebrating his 57th birthday today. He is clearly aging like a fine wine and his good looks are proof of that. His birthday is like a party for his fans and this year was no less. Her fans, family and close friends flooded social media with sweet wishes. On Monday night, the birthday boy was seen celebrating his special day with his friends in the industry. The birthday party was held at the home of Arpita Khan and Aayush Sharma in Bandra. Their daughter Ayat also cut her cake along with Salman as the pair shared their birthdays. Who's who of Bollywood was seen making an appearance at Bhaijaan's big bash. Here's a look at the eight best Salman Khan birthday moments.
Reunion of Salman Khan and Shah Rukh Khan
No matter what happens, Shah Rukh Khan, who is currently preparing for the release of his film Pathaan, always shows up at Salman's birthday. The duo share a warm bond. They often try to keep the date low-key and stay away from the media glare, and that's what makes their bond even more special. On his birthday, Shah Rukh, who has long avoided the paparazzi, posed for the first time with Salman. Their reunion made their fans quite emotional as it reminded them of Karan Arjun. Before SRK took off in his fancy car, they were seen hugging each other, which was the moment of bash. Bollywood superstars care a lot about each other and the video says it all. Even as they posed for the photos, they were seen holding hands. Salman was keen to leave SRK in his car. He even opened the car door and made sure he was seated comfortably. The birthday boy only left and returned to the party after the SRK car left the gate. These sweet gestures towards each other prove that they are friends for life.
The emotional moment of Salman Khan and Sangeet Bijlani
The adorable union of Salman and his ex-girlfriend Sangeeta Bijlani was another moment that took the internet by storm. Netizens are in love with Salman's sweet gesture towards Sangeeta. In the viral video, Sangeeta was seen wearing a sparkly dress while Salman wore her black-on-black look. The pair were seen laughing at each other's jokes as they waited for Sangeeta's car. After the car arrived, Salman hugged Sangeeta and also gave her a kiss on the forehead before saying goodbye to her. He also gave namaste to Sangeeta's driver after he arrived at the scene. Not only that, Salman, a true gentleman, also opened the car door. His bodyguard Shera was seen opening the door, but Salman pushed him and went after his ex-girlfriend. Very adorable!
Celebrating Salman Khan with the media
The birthday boy made a dhamaakedaar entrance on the spot. He arrived with his entourage in style. Clearly not looking 57 years old, he posed for the paparazzi. The media was seen bringing him a cake to cut. Salman graciously came forward and cut the cake. He ate a tiny piece and offered the rest to the paparazzi. He's the man with a heart of gold for a reason!
Iulia Vantur with Salman Khan
Video of Salman's party surfaced on social media. He was seen cutting into a huge, delicious birthday cake with his family beside him. Even his alleged girlfriend Iulia Vantur was seen alongside him. She is seen recording videos as he cuts her birthday cake. The pair usually avoid being next to each other. But this time, they didn't dodge. Salman cut the cake in his own unique and fun way.
Salman Khan's cute moment with Ayat Sharma
Apart from his own cake, he has also been seen cutting his niece Ayat's birthday cake with her. Arpita's daughter shares her birthday with Salman. In the video, Salman is seen giving the munchkin a piece of cake. It's all adorable.
Salman Khan – A womanizer
Salman has always been a charmer. Be it his female co-stars or ex-girlfriends, the actor shares a special bond with everyone. Also during the party, Salman was seen posing with the gang in style. The photo also featured Iulia. Salman is seen posing with Warda Nadiadwala, Deanne Panday and other women. He is seen sporting his beautiful smile.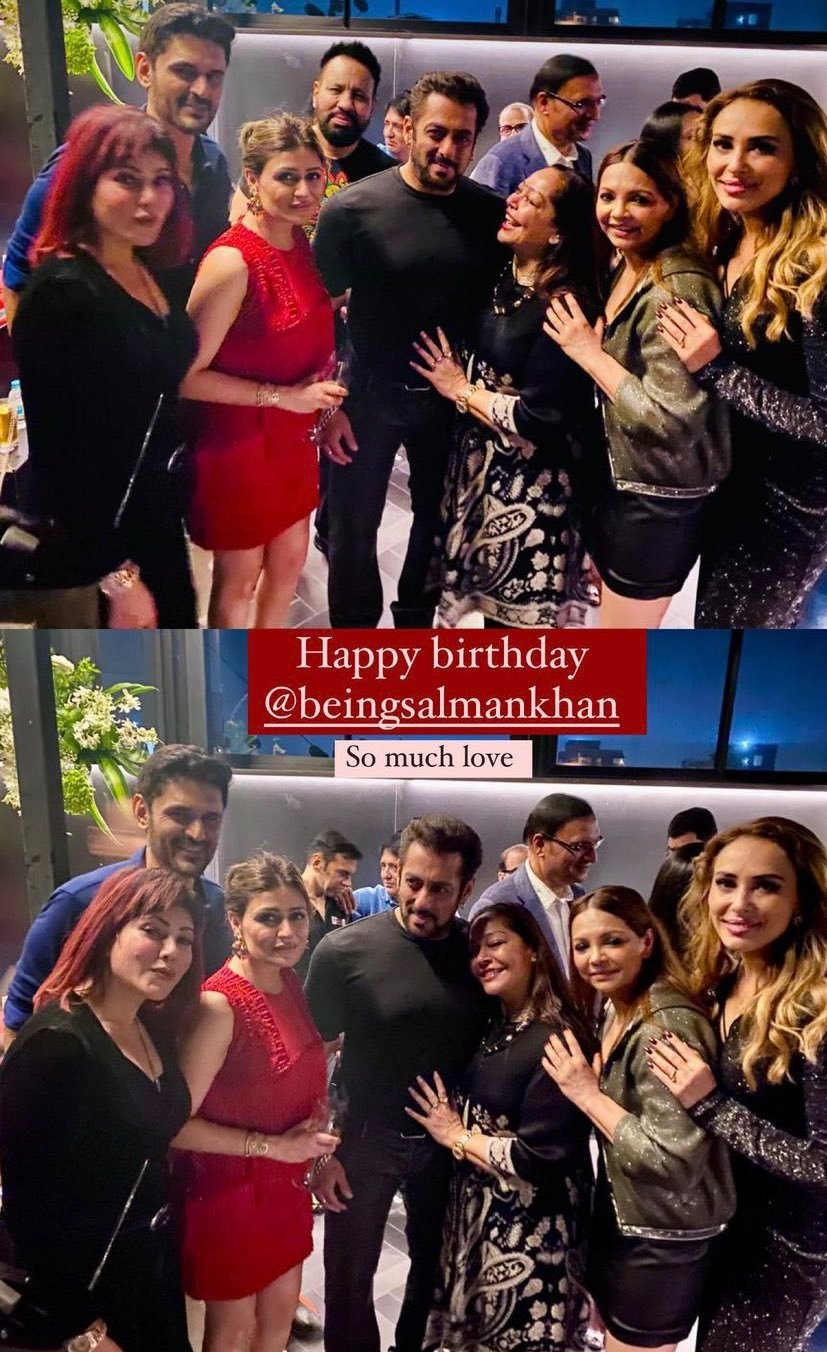 Pooja Hegde's Starry Entry on Salman Khan's Birthday
Pooja Hegde is set to be seen with Salman in Kisi Ka Bhai Kisi Ki Jaan. The duo collaborated for the first time. Recently, they made headlines after rumors surfaced that they were dating. But clearly, the rumors didn't affect their relationship. The actress was seen making a starring appearance at her birthday. She even posed for the paparazzi. Pooja looked stunning in a white top and jeans. She recently celebrated her birthday on set with Salman and the entire crew.
Bhool Bhulaiyaa 2 Rally on Salman Khan's Birthday
Interestingly, Kartik Aaryan, who is trending high, was also seen attending the birthday party. He arrived with his producer Murad Khetani. Even her Bhool Bhulaiyaa 2 co-star Tabu was also seen making her presence felt on Bhai's birthday. Kartik shared a selfie with Tabu as they quickly got together. Along with the photo, he wrote: "With my Manjuuu".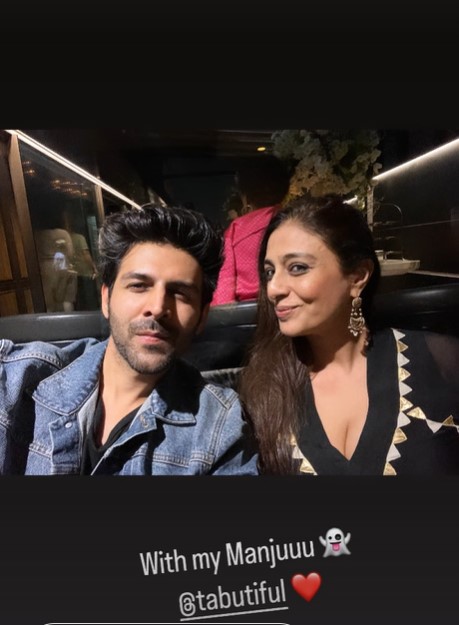 .